Upgraded MyCUHK & CUSIS Coming in Mar 2020**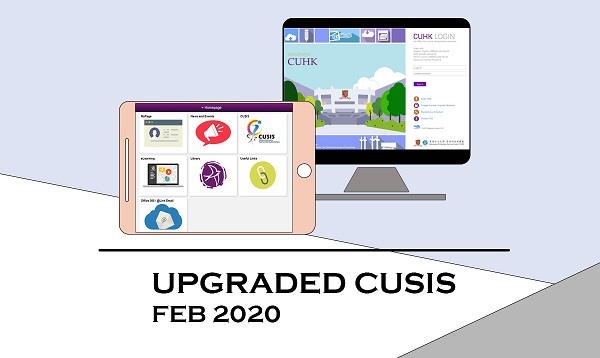 * Note: Due to novel coronavirus, the University has announced a new class and work arrangement. The go live date of upgraded MyCUHK was once 26 Feb 2020 (Wed) and is now postponed as below:
Blackout Period + System Check: starting from 28 Feb 2020 (Fri) 6PM
Go Live Date: 11 Mar 2020 (Wed) 8:45AM*
From early 2019, ITSC has been working with different administrative offices to prepare for the MyCUHK & CUSIS upgrade. Mark the date and the important events below!
When is it available?
[Updated] The upgraded platform will go live on 11 Mar 2020 (Wed) 8:45AM*.


Anything we need to note?
[Updated] MyCUHK and CUSIS will be suspended tentatively during 28 Feb (Fri) 6:00PM - 11 Mar (Wed) 8:45AM*, for the upgrade to the new platform. The project team has been coordinating with administrative offices to conduct tests and to make arrangements to minimize interruption to university administration during the blackout.


Any new features?
The upgraded system has

mobile-responsive user interfaces and compatibility to most browsers
enhanced self-service functions for students
enhanced security protection to CUSIS data



What changes will we experience?
The login of MyCUHK will be via CUHK Login after the upgrade. This allows you to access Office 365 services, library service or etc. across the same browser without further login, after entering MyCUHK. However, you still need to type in your ID and password for systems which are not using CUHK Login. We will keep you posted through ITSC homepage listed below. Stay tuned!


How does it look?
Here at the bottom, you can see one of the screen preview after user login.
Enquiry: ITSC Service Desk (https://servicedesk.itsc.cuhk.edu.hk) > Get Help > University Admin Systems
Reference: https://www.itsc.cuhk.edu.hk/project/mycuhk-and-cusis-upgrade-project/
back to issue