Trigault, Nicolas (1577-1628). Due lettere annue della Cina del 1610. Rome: Bartolomeo Zanetti, 1615.
The library has purchased or subscribed number of new electronic resources as below since August 2021, covering different subjects and languages.
---
Trigault, Nicolas (1577-1628). Due lettere annue della Cina del 1610. Rome: Bartolomeo Zanetti, 1615.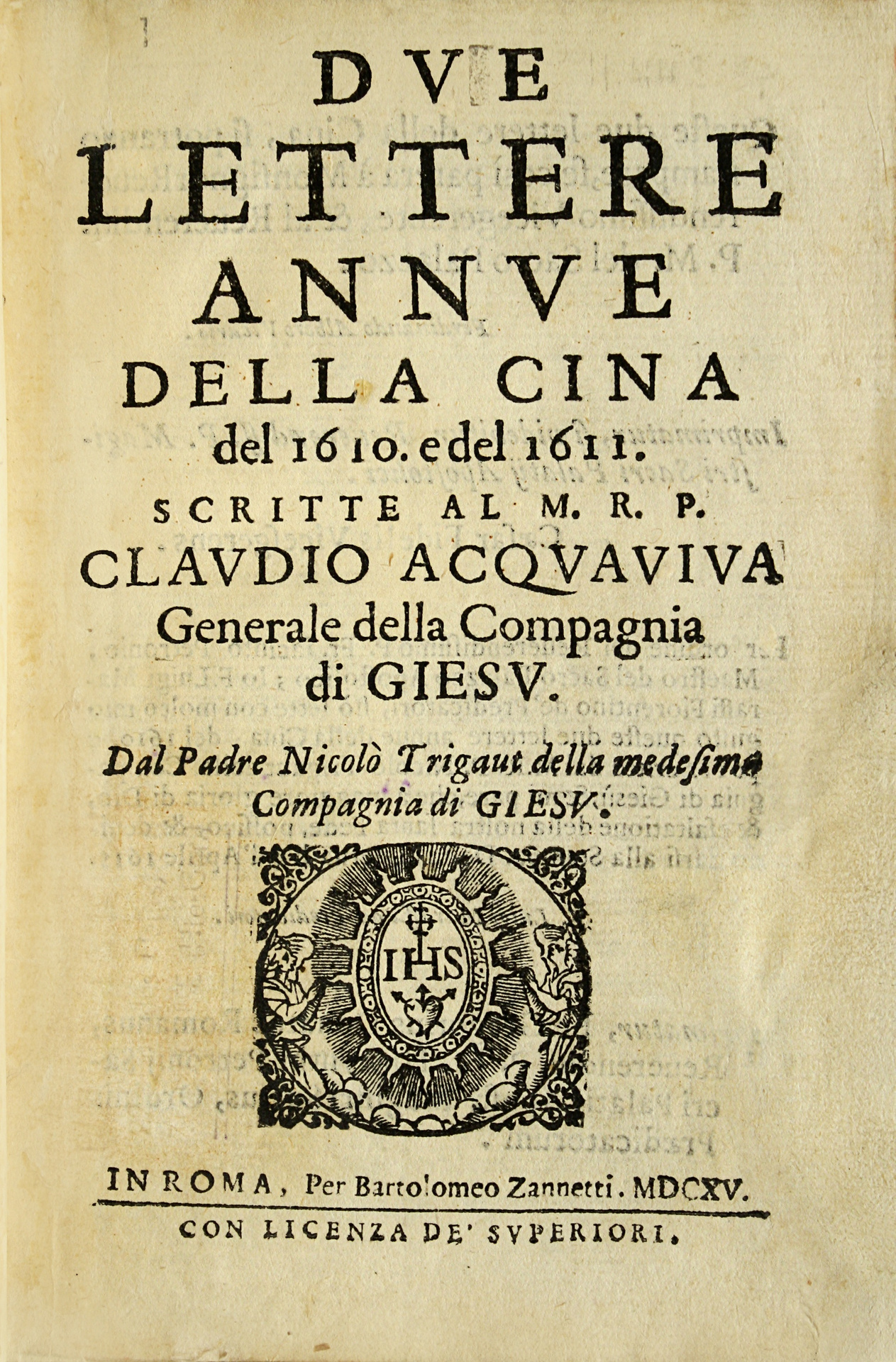 This is the first edition, 8 volumes; Spine and upper cover with faded ink lettering: Cina 1610 1611; pp. 263 including title-page; all edges gilt, with woodcut initials and woodcut Jesuit device on title.

Trigault reached Nanjing and Beijing in 1611 to assess and report on the state of the Jesuit missions there. He was appointed Procurator of the missions in 1613 and returned to Rome to submit his reports and publish this work. It attested to the success of the missions in 1610-1611, stressed the importance of making Beijing their centre of operations and the need to respect the Chinese manner of dealing with Westerners, and advised that China become an independent province of the Society of Jesus.

The information in 'Due lettere...' would have assured Pope Paul V - Camillo Borghese and uncle of Scipione Borghese, the owner of this copy - of the Church's grasp on China and strengthened his ambition to establish a military and commercial network through the China missions against the Protestants and Ottomans. When Paul V was elected Pope in 1605 he appointed Scipione a cardinal, thus ensuring the Borghese family fortune. Scipione managed finances both for the papacy and the family, increasing its land holdings with income from papal stipends, from his many ecclesiastic appointments, including Librarian of the Catholic Church, and enriched himself from fees and taxes. He was also a major patron of the arts, amassed one of the finest collections in Europe, and in 1613 began construction of the Villa Borghese to house his art collection and library. This copy of 'Due lettere..' which was in Cardinal Borghese's collection is particularly significant in view of his role in the Church, the papacy's designs on China, and these earliest reports from those missions.


---

Service Lists and Reports of the Chinese Maritime Customs Service and Whangpoo Conservancy Board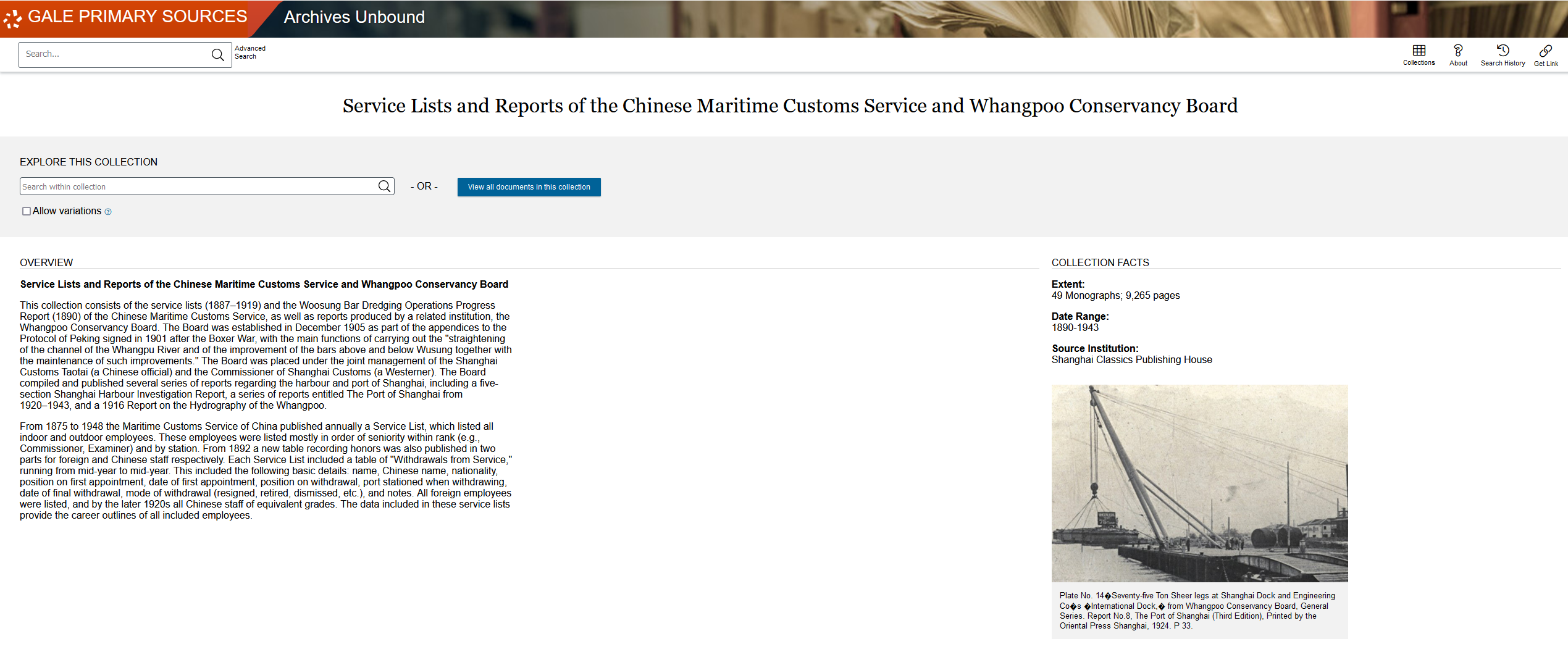 Coverage: 1890-1943
This collection consists of the service lists (1887–1919) and the Woosung Bar Dredging Operations Progress Report (1890) of the Chinese Maritime Customs Service, as well as reports produced by a related institution, the Whangpoo Conservancy Board.




Shanghai International Settlement: Shanghai Municipal Council Reports, Minutes of Ratepayers Meetings, and Shanghai Volunteer Corps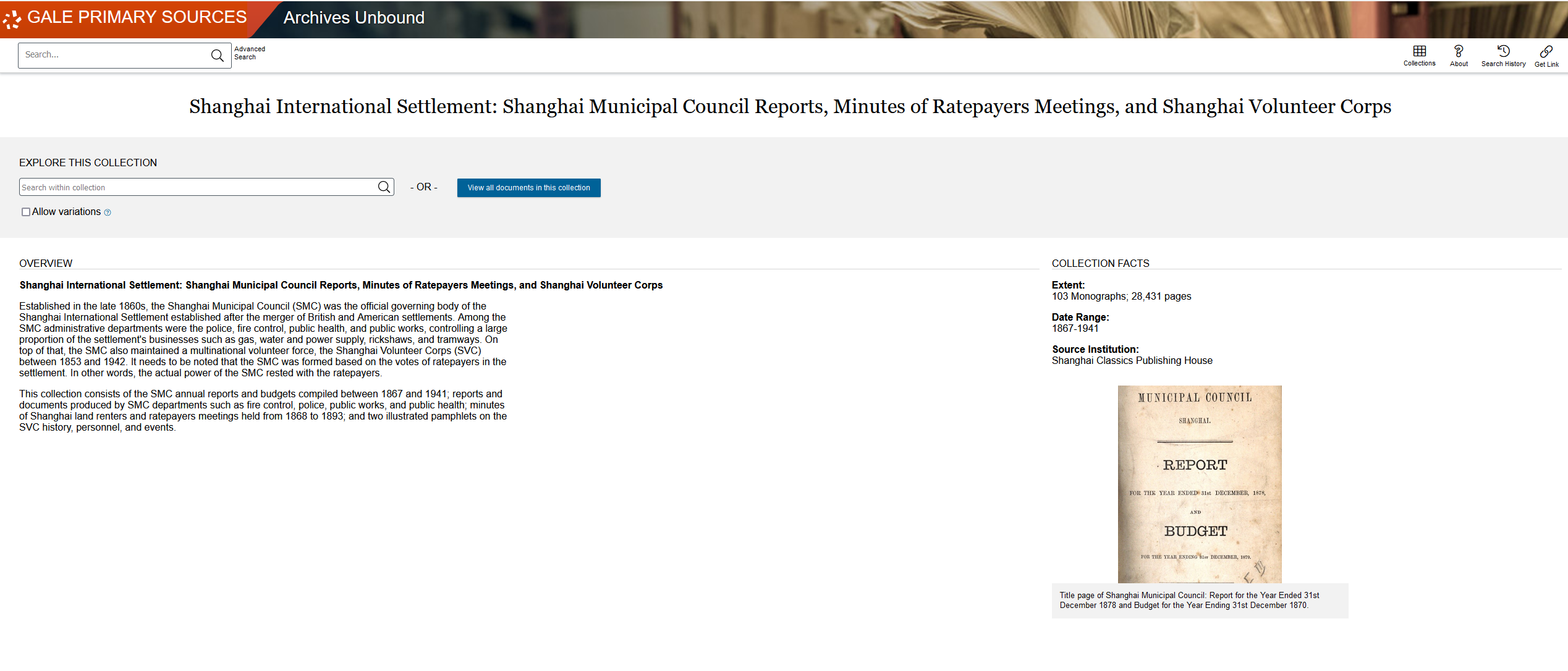 This sub-database consists of the Shanghai Municipal Council (SMC) annual reports and budgets compiled between 1867 and 1941; reports and documents produced by SMC departments such as fire control, police, public works, and public health; minutes of Shanghai land renters and ratepayers meetings held from 1868 to 1893.




Shanghai International Settlement: Urban Planning and Development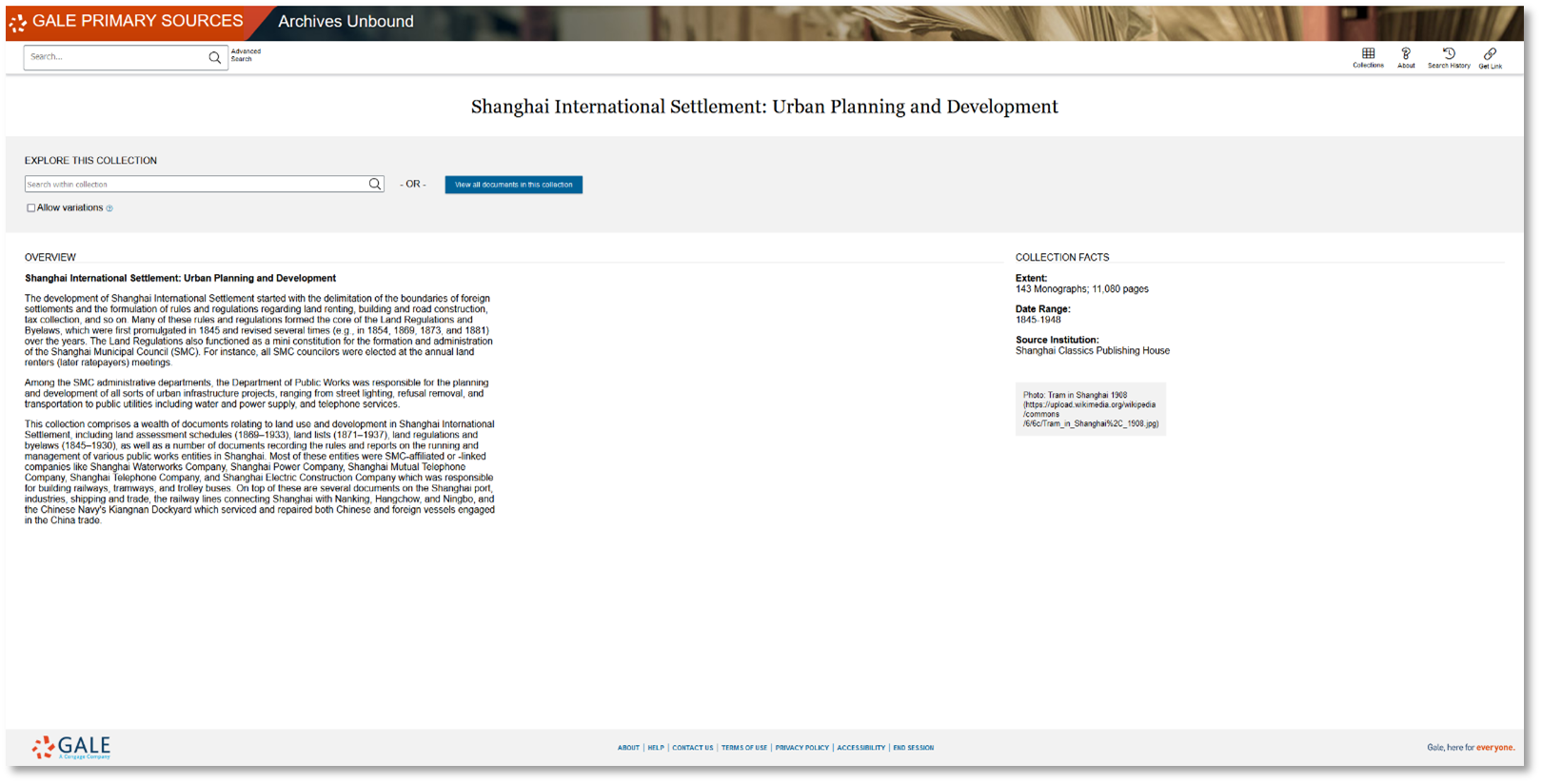 This collection comprises documents relating to land use and development in the Shanghai International Settlement, including land assessment schedules (1869–1933), land lists (1871–1937), land regulations and bye-laws (1845–1930).




Chinese Text Project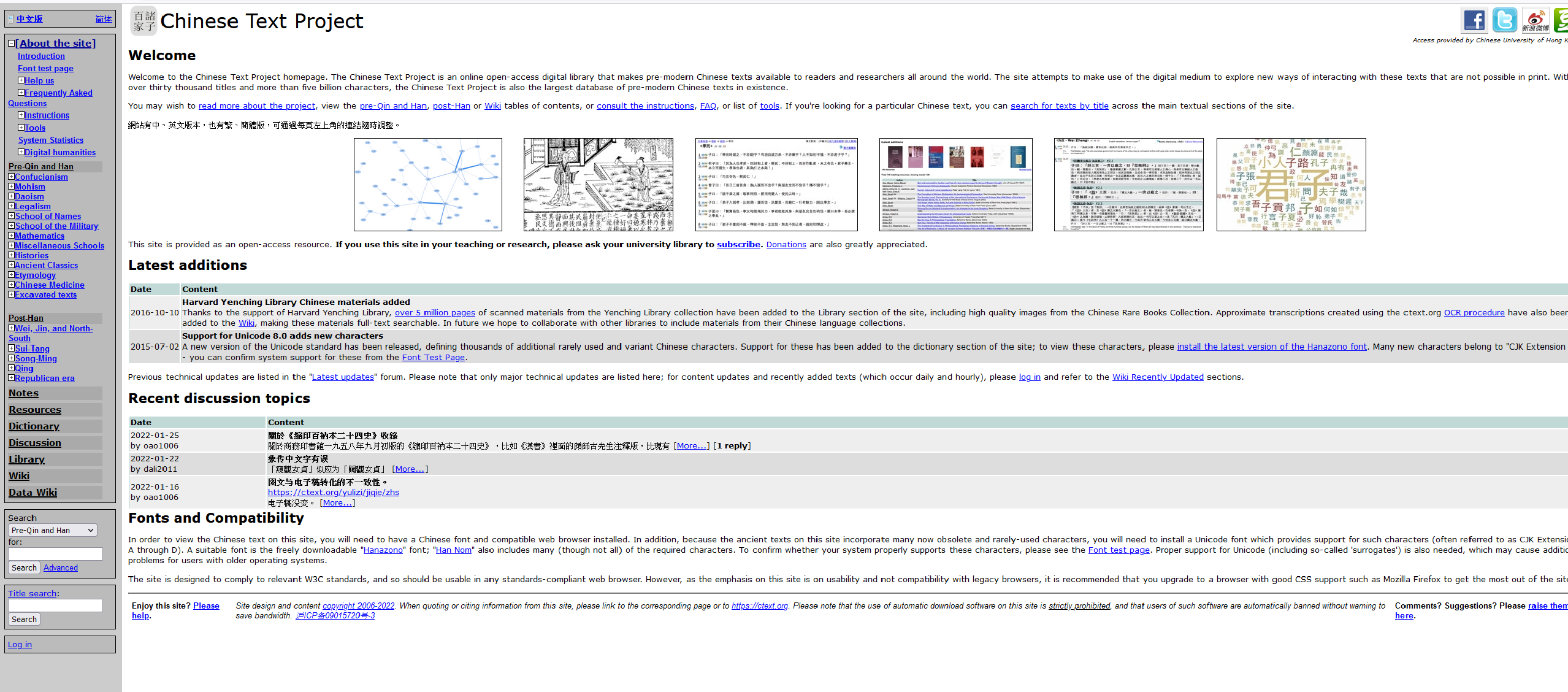 Coverage: Pre-Qin and Han dynasty to current
This online open-access resource provides over 30,000 titles and more than 5 billion characters of pre-modern Chinese texts from the pre-Qin dynasty.




National Palace Museum Journals Archive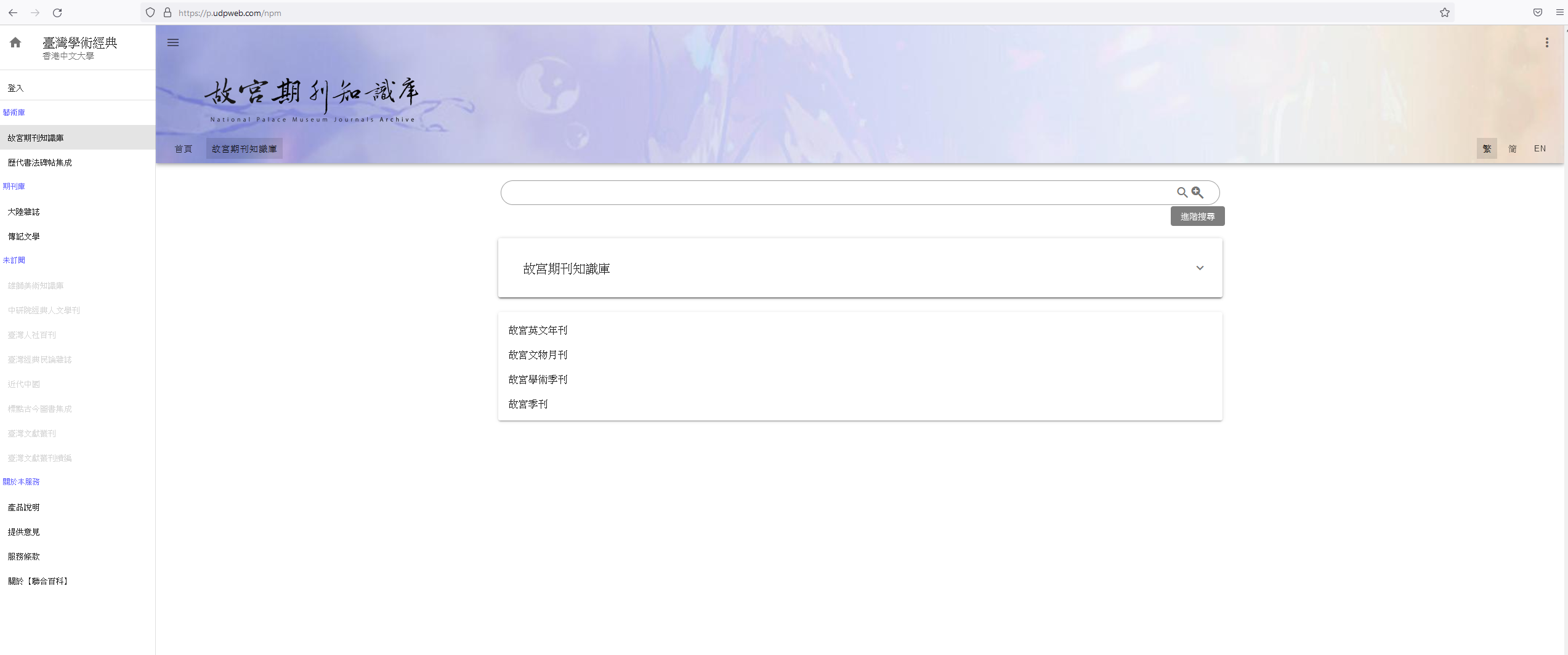 Coverage: 1966 to Present
This knowledge base contains the complete graphic content of four journals: "Forbidden City Cultural Relics Monthly", "Forbidden City Academic Materials Quarterly", "Forbidden City English Annual", and "Forbidden City Quarterly", with a total of nearly 1,000 issues, 7,500 articles, and 60,000 color pictures. In addition to supporting the full-text search function, you can also click on the black and white image to view the original color image, and translate the English title and cultural relic name of the "Forbidden City English Annual" into Chinese.




Papers of Old Shanghai

This series includes the following categories:
1. Business, Banking, and Insurance
2. Papers of Old Shanghai: Miscellanies
3. Press, Education, Healthcare, and Charity
4. Social Shanghai
5. Societies and Clubs

It contains primary source documents from different organisations and various aspects of old Shanghai. It includes reports, handbooks, manuals, albums, catalogues, magazines, yearbooks, membership lists & rules, meeting minutes and miscellaneous publications.