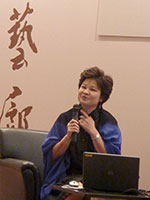 Professor Hua Wei graduated from the National Taiwan University and went on to receive a Master's degree and PhD from the University of California at Berkeley. She is currently Professor and Division Head of Chinese Language and Literature at the Chinese University of Hong Kong. Other notable posts include, Research Fellow and Associate Director of the Institute of Chinese Literature and Philosophy at the Academia Sinica, as well as Visiting Professor at the University of California, Berkeley, University of Chicago and the Hong Kong University of Science and Technology. Professor Hua's main research interests are Ming-Qing literature, classical Chinese drama, and women's literature.
  After gaining my bachelor's degree from the Department of Foreign Languages and Literatures at the National Taiwan University, I went to the University of California, Berkeley to study comparative literature. As a graduate student, I was profoundly influenced by my supervisor, Cyril Birch, a very famous scholar of Chinese drama. I realised that Ming-Qing drama is much more than its text. It is also a form of performing art that manifests a vivid beauty and vitality. The Kunqu club hosted by the famous linguist Li Fang-kuei and his wife further inspired me to pursue classical Chinese drama as my main area of study. My research incorporates literature, performance, the life and identity of the literati, to provide a social, historical, cultural and even a political perspective of Chinese drama. The political aspect refers to the literati's self identity and resistance towards the dominant ideology as implied by his or her dramatic creations.
I went back to Taiwan's Academia Sinica to continue my research after several years of teaching in the US. I wrote about Tang Xianzu for my PhD dissertation, but I began to explore a new research area upon my return. The wave of research on gender and women greatly intrigued me and I developed an interest in women's literature in the Ming and Qing dynasties in search of women's voices that have been ignored by tradition. At the time, female writers were a far less popular research topic, so I consulted experienced scholars to obtain my first play by a female artist, Wu Zao's Image in Disguise. This play has now been translated into English. At a meeting of the Association for Asian Studies, I presented my research, "The Lament of Frustrated Talent: An Analysis of Three Women's Plays in Late Imperial China". This paper attracted great attention because few people knew that there were female writers in the history of Chinese drama and they were very interested in how these female writers made their voices heard. Therefore, my first project after I went back to Taiwan was a comprehensive study on female dramatists and drama critics in the Ming and Qing dynasties. This resulted in the publication of my book, Ming-Qing funü zhi xiqu chuangzuo yu piping (The dramatic works and criticisms by women of the Ming and Qing). I called women's voice as a "voice amidst silence". I study how women made use of drama to speak through cross-dressed characters to express their opinions and desires, such as lesbian love, frustration in marriage, rebellion against the marriage system and stereotypical family roles. A study of the cultural history of Chinese women will never hit the mark if we do not study also women's version of the truth contained in their writing.

There were two ways that female writers made their voices heard through their dramatic works. They either spoke their minds through characters in the drama or made comments directly in endorsement poems or in a commentarial edition of a play. Such an edition of the most famous Peony Pavilion, called The Genius Peony Pavilion, co-authored by a married couple, contained more comments than the original text. The comments extended beyond critiquing the dramatic work itself to social and cultural phenomena. The freedom of the traditional pingdian or commentary, in my opinion, was an important tool of social and political intervention for the literati, especially non-mainstream literati and women. Amidst the tightened cultural policies and the rebirth of the Rationalistic School of Neo-Confucianism in the 18th century, The Genius Peony Pavilion was very influential in combating the oppression of women and provided a female voice through the co-authorship of a husband and wife.

In the Ming-Qing period, support for women's literary writing from fathers, mentors, and husbands was very important. Sometimes, female writers' poetry anthologies were advocated as exemplary of morality. Instead of directing the readers to the beauty within the works, advocators focused on the moral principles, such as fidelity and chastity, which were presented. An example can be found in an article I wrote on a female poet, "From Private Life to Public Performances: The Constituted Memory and (Re)Writings of the Early-Qing Woman Wu Zongai", which was collected in the book The Inner Quarters and Beyond: Women Writers from Ming through Qing. Wu and her poems were constructed by a local official as a moral model in the late-Qing period. Evidently, publication of women's works depended on many factors.

After I came to the Chinese University of Hong Kong, I embarked on a new research project entitled "The Representations of Ming History in the Classical Drama of the Qing". I believe that we need to consider the features and inner qualities of the genre we study that allow it to become a cultural voice and force. Drama and theatre may have created a kind of freedom for people who could not make their opinions heard through official channels. As characters in classical Chinese drama are classified as sheng (young male), dan (female character), jing (painted face), mo (old male) and chou (clown), through depicting different role types from different angles, dramatists can create diverse voices and perspectives. As a result, the dramatist can easily express things that cannot be figured out or conveyed directly through the amusing cursing and joking by minor characters. It is precisely because the perception of the genre as unimportant, truth of culture and of texts can be hidden within. This is why I view drama as a reflection of people's emotion and history in a certain time and place, as well as a flow of social energy.
I found that despite such literary inquisitions as the "Case of Ming History", in the Qing dynasty there were still many plays on the history of the Ming. To what extent were the writing and use of Ming history in drama different from the official history, and also different from early Qing to mid-Qing and to late Qing? My research aims to broaden the scope of traditional historical study by exploring the "emotional" history of the Qing people, for in drama, social energy, collective beliefs and experiences are often encoded. My previous research project, "A Complete Bibliography of Qing Classical Drama", conducted at the Academia Sinica had prepared me for this new project. Wang Guowei and Wu Mei were both very influential scholars in drama, but their research methods were very different. Despite their differences, both scholars contributed to the relatively low opinion of Qing drama. Although a large amount of Qing drama were left, common studies of Qing drama only go as far as The Palace of Eternal Life, The Peach-Blossom Fan, and Li Yu. A large number of hand-written copies of plays and operas that were performed on stage have gone unnoticed. Since I consider drama as the "history of emotions", I do not confine my research to dramatic literature or texts written by the literati. As a matter of fact, the literati and the common people had different ways of representing history. In my article, "Who is the Main Character? Who is the Viewer? – A Discussion of the Death of Chongzhen in Qing Dynasty Drama", I discussed how the historical event of the last Ming emperor, Chongzhen's death was represented differently by the imperial court, the literati and the theatre circle in different periods of the Qing Dynasty. We can say that history is always contemporary as it is often used to convey the writer's attitude, position and goals at a point in time. Historical drama exists everywhere in the world. It serves as a lesson for the present and is closely related to ideology. We can, however, still find heterogeneous and dissident voices in good works such as The Peach-Blossom Fan.

I published my new book at the end of last year, Mingqing xiqu zhong de nüxing shengyin yu lishi jiyi (Women's voices and historical memory in Ming-Qing drama), which contained selected academic papers on drama that I have published in recent years. These papers analysed the meaning of Ming and Qing drama and its social and cultural significance through the perspectives of women's voices and historical memory. For instance, during the reign of Qianlong, the famous poet Jiang Shiquan considered himself a "dramatist historian" because he views drama as a part of history. Jiang composed three plays to memorialize Lou Fei, the wife of the Ming dynasty's Prince Ning, Chenhao. While telling her story, he wrote about a person who set up a monument for this concubine Lou. This person was actually Peng Jiaping, the victim of a literary inquisition in the Qianlong reign. Unable to mourn Peng openly, Jiang cast him in his drama and secretly criticised the emperor while appearing to praise chastity and loyalty. Drama in the mid-Qing period is usually considered morally oriented and a large amount of the content dealt with loyalty, fidelity, chastity and righteousness. But I strongly doubt the view that everyone abides by the dominant ideology in a certain era. By linking literary history with the thread of history and society in a certain time and space, we can gain much insight from drama. In "The Self in Historical Performance and Historical Reminiscence—Discussing Jiang Shiquan's Three Lou Fei Plays", I discussed how writers conveyed their reflections on the value and concept of "loyalty" through writing about loyalty, fidelity, chastity and righteousness, and how they made use of minor characters to express their own voices. Different voices can be expressed under totalitarian control, albeit in a restrained and indirect manner.

Besides my own research, I am also working on the Kunqu Research and Promotion Project at our university. The planning for an international conference on Zhezixi (an opera excerpt) in Kunqu is underway. And I intend to publish a collection of papers from this conference. As an excerpt from a play, Zhezixi embodies Kunqu aesthetics and artistic heritage. I hope that this project will bring the study of Kunqu to a new theoretical level. Although previous academic conferences have focused on Kunqu, none of them focused on Zhezixi. I am also preparing to publish an illustrated edition of the chronicle of Kunqu, in which the relationships between Kunqu and the literati's lives, the imperial court, the common people, and various historical events will unfold in a reader-friendly way.
At present, I am conducting a new General Education course, "The Beauty of Kunqu Opera" and involved with designing its on-line versions. Internationally well-known Kunqu masters have come to the class to analyse their most representative performances. It is my firm belief that traditional culture can provide profound resources for modern people's lives as well as artistic creations. So I encourage my students to create their own works of art at the end of the semester to demonstrate the connections between Kunqu and modern society. My hope is that students will then reflect deeply on how classical tradition can be brought into the modern world.