Kai-hsiang Hsu, "The Religious Space of Temple Fairs in Shu during the Tang-Song Period: A Case Study of the Silkworm Fair on the Third Day of the Third Lunar Month"
Lawrence C. H. Yim, "From 'Modern Poetry' to the 'Literati Culture' : A Study of Qian Qianyi's 'Sixteen Quatrains on Modern Poets'"
Yang Chin-lung, "An Existence That Should Not Exist: The Presence of Qian Qianyi in the Siku quanshu"
Law Lok Yin, "Chosŏn Interpreters of Chinese and the Construction of the Sino-Chosŏn Cultural Interaction Network: A Case Study of the Relationship between Yi Sang-jŏk and Wandong Sehando"
Rostislav Berezkin and Vincent Goossaert, "The Wutong Cult in the Modern and Contemporary Suzhou Area"
Allan H. Barr, " The Dreaming Mind and the End of the Ming World. By Lynn A. Struve"
Edmund S. K. Fung, "Voting as a Rite: A History of Elections in Modern China. By Joshua Hill"
For more details, please visit the
Journal of Chinese Studies
website:
http://www.cuhk.edu.hk/ics/journal/eng/journal.html
Renditions, no.92, Research Centre for Translation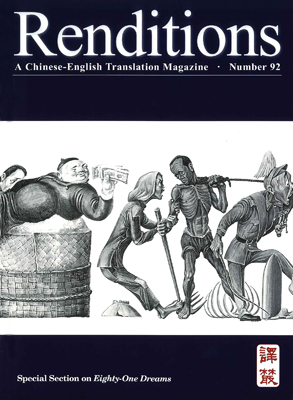 Renditions no. 92 (Autumn 2019) is a general issue with a special section dedicated to excerpts from Zhang Henshui's 張恨水 Eighty-One Dreams 八十一夢, a series of fantasies revolving around life in China before, during, and what the author images things might be like after the War of Resistance, beautifully rendered by Simon Schuchat. Other features comprise two pieces published in the same journal in the final decade of the Qing dynasty, one being "A New History of Rats" 新鼠史, an amusing allegory of Chinese weakness and potential for recovery, the other a short and lively satire titled "School Inspection" 查功課 by Wu Jianren 吳趼人.



Twenty-First Century Bimonthly (Issue 176, December 2019), Research Centre for Contemporary Chinese Culture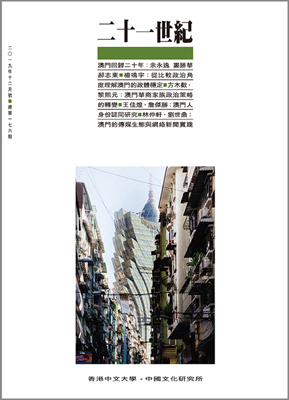 The Twenty-First Century Review section presents the topic "The Twentieth Anniversary of Macau's Return to China". Profound political, social and economic changes in Macau since the return are discussed:
Eilo Yu Wing-yat, "The Sustainability of Macao's 'One Country, Two Systems' Model"
Lou Sheng-hua, "On the Development of Macao's Associations and the Evolution of Their Social Roles after the Return of Macao"
Hao Zhi-dong, "Responsible Gambling? The Role of the Government and the Operators in Macau's Gaming Industry"
The sustainability of the "Macau Model" is also investigated in four research articles:
Ieong Meng U, "Macau's Regime Stability in Comparative Perspective"
Fang Mu-huan and Li Xi-yuan, "The Transformation of Political Strategies of Chinese Merchant Families before and after Macao's Handover"
Wang Chia-huang and Jan Jie-sheng, "A Study of the Identity of Macau People: A Comparison with the Case of Hong Kong"
Lin Zhong-xuan and Liu Shih-diing, "The Evolution of Media Ecology and Practices of Internet Journalism in Macao"
Other aspects of Macau are explored in columns of View on the World, Research Notes and Book Reviews:
André Lui, "Revisiting the Application of the Historic Centre of Macao as World Heritage before Macao's Handover and Its Implications"
Victor Zheng, "'Double Liminality'—A Sociological Observation on the Macao and Hong Kong Eurasian Communities"
Su Chang, "The Nightmare of Casino Capitalism: A Review on Janet Ng, Dreamworld of Casino Capitalism: Macao's Society, Literature, and Culture"
Chen Ju-chen, "The Drifting Subject: A Review on Shi Wei, Drifting around China's Las Vegas: Migrant Workers in Macau"



Twenty-First Century Bimonthly (Issue 177, February 2020), Research Centre for Contemporary Chinese Culture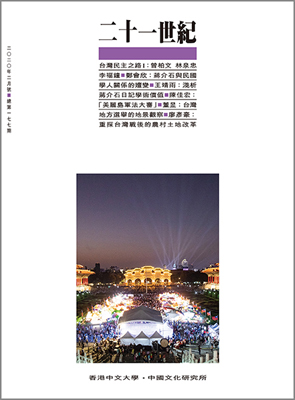 The Twenty-First Century Review section for this issue and the next deals with "Taiwan's Road to Democracy (Part I & Part II)". Three essays give insights into the Taiwan Election 2020:
Albert Tzeng, "From Sunflower Movement to Taiwan's 2020 Election: Progressionism, Populism and Anti-China Sentiment"
Lim Chuan-ti, "The Revelations of Taiwan's National Identity in the Early Twenty-first Century"
Li Fu-chong, "From Authoritarian Rule to Democratization: Taiwan's Political Changes in Seventy Years"
Four research articles cover the period from the Nanjing Nationalist government to the eve of Taiwan's liberation, with the history of interactions between Chiang Kai-Shek, Chiang Ching-kuo and the intellectuals, as well as different political and social powers as the main axis:
Cheng Hwei-shing, "The Transformation of the Relationship between Chiang Kai-shek and Scholars in Republican China (1932–1949)"
Wang Jing-yu, "An Analysis of Chiang Kai-shek Diaries' Academic Value and Its Applications in Research"
Liao Yen-hao, "Taiwan's Postwar Land Reform Reconsidered: An Urbanization and Industrialization Perspective"
Fupian Chen, "The Suppression of Dangwai Forces by the Kuomintang Authorities: Focus on the Formosa Military Trial"
In the View on the World column, "Behind the Billboards: Some Thoughts on Taiwan's Electoral Culture" by Dong Yu shows different sceneries of the local elections in Taiwan.



Twenty-First Century Bimonthly (Issue 178, April 2020), Research Centre for Contemporary Chinese Culture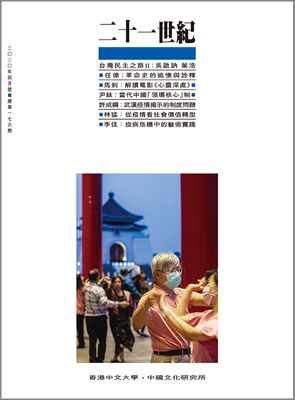 In the Twenty-First Century Review section, in-depth discussions of the various issues of democratization in Taiwan are continued:
Wu Zhe, "Democratization or Nationalism: Taiwan's Political Transformation in a Historical Perspective"
Yeh Hao, "Democracy and the Spectre of One-party Statism in Taiwan"
Research Articles
Ren Wei, "Reminiscences of the Chinese Revolution: Recollections and Interpretations of the Pingjiang Uprising"
Zuo Ci, "A Preliminary Study of the Percentage-based Mechanism for Execution in the Campaign to Suppress Counter-Revolutionaries"
Ma Zhao, "Revolutionary Memory and Cultural Transformation in 1980s China: Interpreting the Film Deep in My Heart"
Yin Tai, "A Study of the 'Leadership Core' in Chinese Communist Party's Political System"
In view of the severe epidemic situation, two relevant articles are published in the column Research Notes:
Xu Cheng-gang, "Institutional Problems behind Coronavirus Disease in Wuhan"
Lin Meng, "Transformation of Social Values as Seen from Media Reports and Public Discussions of Coronavirus Disease"
"Art Practices in the Time of the Coronavirus Outbreak" in the View on the World column shows different forms of artistic works of the social circumstances in 2003 SARS and COVID-19 viruses.
For the issues' content, please visit the Twenty-First Century Bimonthly website: http://www.cuhk.edu.hk/ics/21c/.
Studies in Chinese Linguistics (Volume 40, Number 2), T. T. Ng Chinese Language Research Centre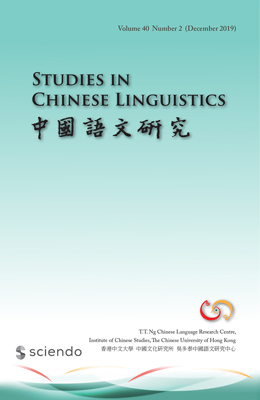 Studies in Chinese Linguistics (Volume 40, Number 2) has been released. There are three articles in this issue:
Niina Ning Zhang, "Appearance and Existence in Mandarin Chinese"
Haiyong Liu, "Why Plurality of the Possessor Matters in Mandarin Chinese Inalienable Possession"
Jiaying Huang and Caterina Donati, "Subject-Object Asymmetry in the Production of Relative Clauses in Cantonese"
This is an open-access journal distributed by Sciendo (formerly known as De Gruyter Open). PDF copies of these articles can be downloaded freely via http://www.cuhk.edu.hk/ics/clrc/.



Collected Papers on Commentaries of Ancient Chinese Texts: Glossaries, Exegeses, and Transmission, D. C. Lau Research Centre for Chinese Ancient Texts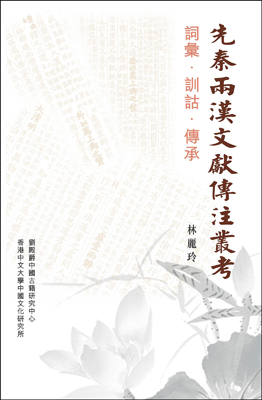 The Collected Papers on Commentaries of Ancient Chinese Texts: Glossaries, Exegeses, and Transmission by Dr Lam Lai Ling was published by the D. C. Lau Research Centre for Chinese Ancient Texts in April 2020. This volume is the 48 th title of The CHANT Series. The author compares the texts and the uncommon lexicons in the Xunzi, Zhuangzi, and Guanzi, and examines how these texts influenced each other in the Pre-Han period. She also analyses similar or identical vocabularies used in these texts and sheds light on their reflections of the prevalent schools of thoughts of the time. In addition, she collects comments of scholars including Zheng Xuan, Wei Zhao, and Wang Su. By examining the collected materials in the light of transmitted and excavated texts, the author studies the relationship between annotations and variants in order to have a better understanding of the method employed by commentators since the Han dynasty. Her further analysis explores to what extent the commentators had used variants in their annotations.



Vague Expectations: Xiao Hong Miscellany, Research Centre for Translation
By Xiao Hong
Compiled and translated by Howard Goldblatt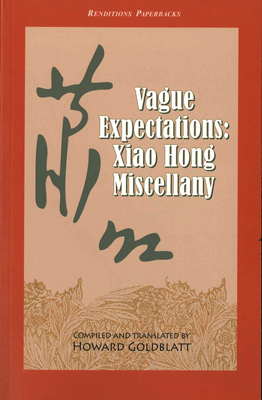 As a novelist, Northeast writer Xiao Hong has few peers. In the introduction to her maiden novel, Lu Xun, for whom praise had to be earned, wrote, "Keen observations and an extraordinary writing style add considerably to [its] vividness and beauty. Its spirit is robust." This plaudit came at the beginning of her tragically truncated career and life. Barely six years later, Mao Dun would write about another of her novels: "Satire is here, and humour. At the start you read with a sense of relaxation; then little by little your heart grows heavier. Still there is beauty, slightly morbid perhaps but bound to fascinate you." Less well-known, but equally impressive, is her corpus of stories, essays, and miscellaneous writing, most published during her short lifetime. The characteristics cited in the appreciations of the two titans of Republican letters are all visible in the two dozen pieces included in this volume. Little wonder that Xiao Hong is one of the most widely read, widely written about, and widely translated Chinese writers of the first half of the twentieth century.
Born in 1911, the year that the Manchu regime was overthrown, in Harbin, Heilongjiang, Xiao Hong began a writing career in 1933, gaining nationwide notice for her first novel, thanks largely to the patronage of Lu Xun, with whom she would develop a deep friendship. She was highly popular among writers and poets, who were her friends, and a host of countrymen and countrywomen, who were her fans, her reading public. She died in Hong Kong in 1942, only weeks after it fell to the Japanese.
Howard Goldblatt has translated a number of literary works from China and Taiwan, including the novels of Mo Yan, 2012 laureate of the Nobel Prize for Literature. A Guggenheim fellow and awardee of several literary prizes and grants, he lives in Colorado with his wife and frequent co-translator, Sylvia Lin.