Upgrade of MyCUHK and CUSIS
Online Talk and Seminar - The Asia-Pacific Institute of Business
【Important Notice】Upgrade of MyCUHK and CUSIS
On March 11, 2020 (Wed), the University will launch a brand new version of MyCUHK and CUSIS. The new platform features a mobile-responsive homepage, with a more modern and intuitive layout. As part of the cutover arrangement, MyCUHK and CUSIS will be temporarily unavailable during the below blackout period.

Blackout period for MyCUHK and CUSIS:
February 28 (Fri), 6pm to March 11 (Wed), 8:45am

During the blackout period, visitors will be redirected to a maintenance page upon entering MyCUHK. The upgraded MyCUHK and CUSIS will go live on March 11 (Wed) 8:45am.
Besides, please note the following important changes after the upgrade:


Login Page

After the upgrade of MyCUHK and CUSIS, there is a change on the login process. Visitors will be redirected to the CUHK Login page to login.



Login ID

Please use <alumni id>@link.cuhk.edu.hk as User ID to login.
If you would like to check your own alumni id, please visit the below website : https://www.alumni.cuhk.net/AlumAcctMgmt/CS_ACCTINQ.aspx(step-by-step guidance).
Your new User ID "<alumni id>@link.cuhk.edu.hk as User ID"is for login purpose only. If you wish to enjoy the free alumni @link email account and 1TB cloud storage services, you have to log on MyCUHK to complete the opt-in procedures (step-by-step guidance) in case you have not yet applied for such service before.



Login Password
The below alumni services, which require log on to the MyCUHK portal, will be suspended during the aforementioned blackout period.
Update of personal contact details (e.g. address, contact number, email, etc.)
Application for the free Alumni Email Forwarding Address (@alumni.cuhk.net)
Preference on the subscription items, e.g. CU Alumni magazine


If you need to use the above services, please log on to the MyCUHK and complete the application/update after March 11 (Wed), 8:45am. Thank you.


Remarks:Please be reminded that it takes 1 to 2 working day(s) to process some of the alumni services applications.
---
Online Talk and Seminar - The Asia-Pacific Institute of Business
Online Talk : "Webinar on Impact Investment"
Description

Date: 12 Mar (Thu)
Time: 5:30pm (HKT, UTC+08:00)
Duration: 45 minutes

Speakers:

Prof Kevin Au, Associate Professor of Department of Management and Director of Centre for Entrepreneurship and Centre for Family Business, CUHK Business School
Ms Rosa Lee, Chief Investment Officer at Grand Capital Holdings Ltd

Organisers:

The Asia-Pacific Institute of Business, CUHK Business School
Rustandy Center for Social Sector Innovation, the University of Chicago Booth School of Business

Remarks:

This webinar was changed from the seminar that was originally planned to be held on 13 Feb. Registrants will be notified separately of the latest arrangement via email. Interested parties who have not yet registered last time could take this chance to register.

Medium of Instruction

English

Who Should Attend

General public who have interest in building an impactful investment portfolio

Details

Please click here

Enquiries

Mr. Eric Yu / Ms. Carmen Chan (The Asia-Pacific Institute of Business)
Tel: 3943 8772 / 3943 4387
Email: ericyu@cuhk.edu.hk / carmenc@cuhk.edu.hk
Online Seminar : The Digital Evolution of Private Markets and Their Importance for Innovation-Driven Growth Economies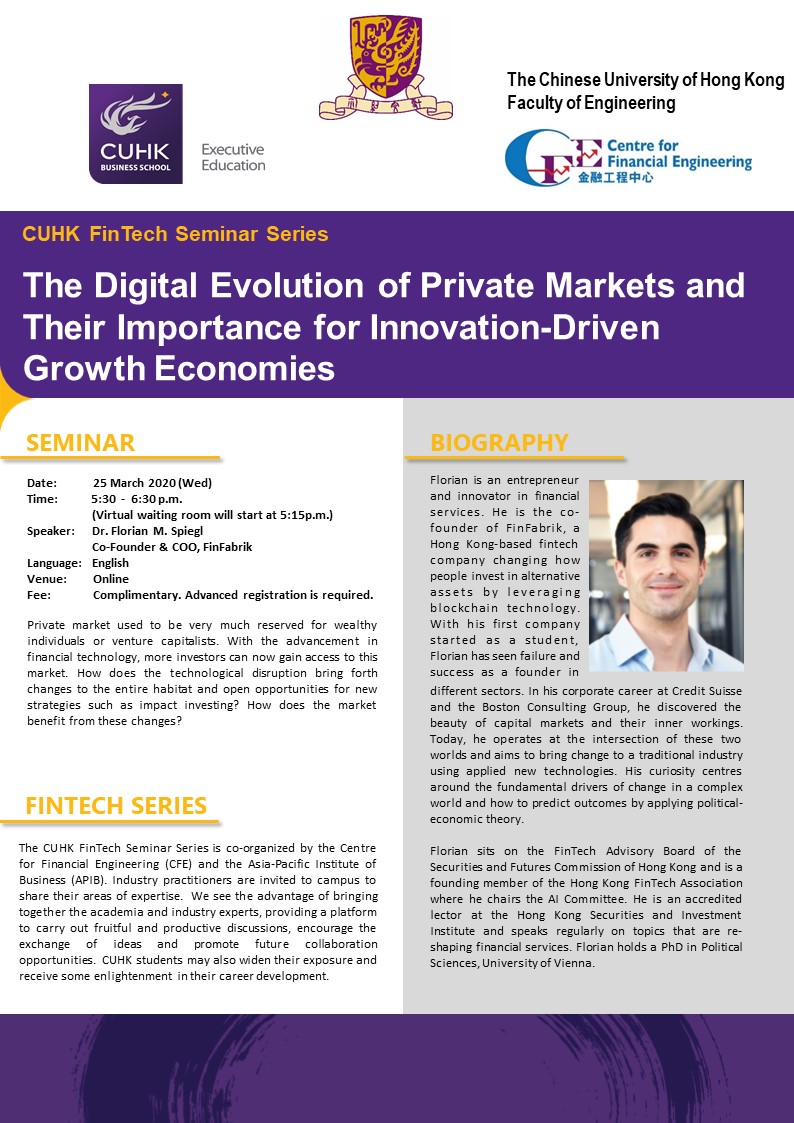 Date

25 Mar (Wed)

Time

5:30pm - 6:30pm

Venue

Online

Organizers

Centre for Financial Engineering (CFE) , CUHK

The Asia-Pacific Institute of Business(APIB), CUHK

Content

Please click here

Guest Speakers

Dr. Florian M. Spiegl, Co-Founder & COO, FinFabrik

Language

English

Fee

Free of charge. Advanced registration is required

Registration

• Please fill out the online registration form;
• Successful registrants will be notified individually

Enquiry

Ms Queena Wong / Ms Joey Kar (The Asia-Pacific Institute of Business)
Tel: 3943 8773/3943 7438
Email: apib@cuhk.edu.hk