In the previous issue of e-newsletter, we briefly introduced several Knowledge Transfer projects undertaken by professors. To have a closer look at how our faculty members contribute their research findings to the community via public education, professional training and arts and cultural programmes, we selected two knowledge transfer projects and highlighted the activities organised and the implementation process in this issue: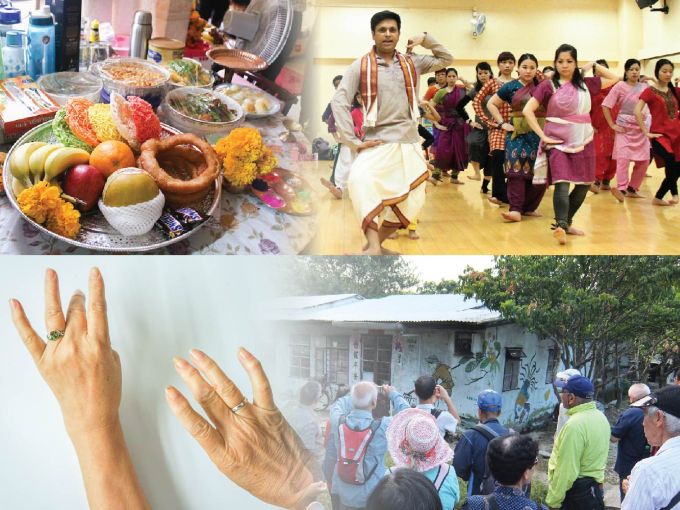 Active-aging projects by Professor Wong Wai Ching, Angela
(1) Elderly Participation and Cultural Intervention; and
(2) Building an Electronic Archive on the Elderly in Preserving Hong Kong Cultural Heritage
Supported by the Knowledge Transfer Project Fund, The Department of Cultural and Religious Studies launched two projects which were led by Professor Wong Wai Ching, Angela last and this year.
The theme of last year's project was "Elderly Participation and Cultural Intervention." Through workshops and activities, we explored the meanings of age-friendly cities with the elderly participants. The activities covered different topics, e.g. cultural meanings of old age, oral history, consumption space, leisure space and barrier-free community. Participation in the activities helped them to generate ideas and articulate their views toward urban development in Hong Kong. Training on the usage of camera and smartphone as means of communication was particularly welcomed by the elderly. It facilitated them to express their feelings and thought on the relationship between their life and living space.
Some photos taken were selected to display in an exhibition named "An Age-friendly Community in the Eyes of the Elderly." In brief, they thought the society mainly relied on the opinions of some major industries, professions, and politicians for urban development in Hong Kong, and ignored the experiences and views of the elderly toward the communities they lived in the process.
This year the project aims at the empowerment of elderly on the preservation of intangible cultural heritage in Hong Kong. Through participation in cultural activities and visits to community organizers, the elderly are expected to learn and transform the meanings of active ageing by reconnecting to local cultural heritage and traditions. Besides, since many of the cultural preservers are over 60 years of age, oral history will be conducted with them and documented for building an electronic archive on the subject at CUHK.
Through discussion with elderly participants, we understood their interests and expectations on the projects and identified some fields and places for their visits, such as Hong Kong Food Culture, Kung Fu, Religious and Ethnic Minorities, Hong Kong Tramways & the Central West District etc. One of the participants, who found the activities interesting, cited that the topic on Hong Kong Kung Fu master – Lam Cho and Blue House brought back his childhood memories in Wanchai when he went to see a Chinese bonesetter at a Wukun (武館). Participants were also curious about the history and functions of a weapon – Sai (鐵尺). They tried to swipe the Sai to feel the weight and usage of the weapon. Elderly participants also help set the questions for the interviews with the organizers/preservers of cultural heritage.
Back
Multiculturalism in Action Workshop by Professor Maria Tam
Professor Siumi Maria Tam of the Department of Anthropology organized a series of workshops named "Multiculturalism in Action" to enhance awareness of ethnic and cultural diversity in Hong Kong. The "Indian Culture Workshop" was conducted in 2014. In 2015 the "Nepalis in Hong Kong: Social Marginalization, Discrimination, and Empowerment" Workshop was held. The workshops covered a wide aspect of life, ranging from religion, festivals, medicine, to gender and family, discrimination in education and employment, and cultural identity. Both Workshops emphasized the involvement of ethnic minorities as experts and partners, and the engagement of Chinese tertiary students in learning about ethnic cultures as an integral part of local heritage.
| | | |
| --- | --- | --- |
| | | |
The projects pioneered a two-tier model in intercultural education. The first tier was a train-the-trainers program including seminars, field visits, intercultural experience, and sessions on research, project design, and presentation. The second tier included outreach to secondary and tertiary institutions through multimedia presentations, and the production of an information kit that was sent to local secondary schools, libraries, and related organizations.
Feedback surveys showed that young people in Hong Kong in general lacked a culture-aware environment, and cross-cultural knowledge and experience. They were in particular enthusiastic about opportunities to make friends with peers of different cultural backgrounds, and to be able to work together to make a change towards social equality.
The Buddy Program was a highlight in the Nepali Workshop. Chinese University students and Nepali youth formed small groups to work on community-based projects, such as a drama on growing up as minority in Hong Kong, kabaddi as a sport, festival exchange, and an exhibition on the lost history of the Gurkhas in Hong Kong. In the process they learned that, despite different backgrounds, they shared similar interests and had similar values and aspirations in life. This confirms that friendship knows no ethnic boundary, and that the younger generation is ready to embrace cultural differences and, given the opportunity, are partners in change for a truly intercultural, cosmopolitan Hong Kong.
The content and products of the Workshops are available at the website "Multicultural in Action: South Asians in Hong Kong".
They aim to provide the public with information on different aspects of culture and life as ethnic minority in Hong Kong, to encourage users especially secondary school teachers, students, and frontline social workers to learn more about South Asian cultures, and to develop further projects on their own.
Third in the Multiculturalism in Action series, the Pakistani Culture Workshop is being carried out in 2015-16.
Back