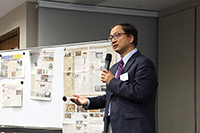 Professor Tang Chung graduated from the Department of History, CUHK, and received his DLitt from the University of Tokyo. He is currently Director of the Centre for Chinese Archaeology and Art, ICS, Professor in the Department of History, CUHK, and Correspondent Member of Deutsches Archäologisches Institut (DAI, German Archaeological Institute). Professor Tang Chung studies East Asia archaeology, especially the history of jade science and technology. He has participated in excavations and researches of Palaeolithic sites in France, Japan and mainland China. During the past 10 years, he has led excavations of several lapidary workshop sites in Pak Mong (Hong Kong), Hac Sa (Macau), Trang Kenh (Vietnam) among others, and explored the manufacture and use of jade through Paleolithic methods in ancient times. His publications include East Asian Jade: Symbol of Excellence (editor), Ancient Cultures of South China and Neighbouring Regions (editor), The Origin of Jades in East Asia: Jades of the Xinglongwa Culture (co-author), Archaeological Excavation of Prehistoric Lapidary Workshop in Hac Sa, China, Proceedings of the International Conference on Prehistoric Rotary Technology and Related Issues at Hac Sa, Macao (editor), and other collections and papers.
In his talk, Professor Tang Chung discussed recent archaeological excavation of the Sung Wong Tai site along the Shatin to Central Link, and commented on Hong Kong archaeology and its academic development in the future. He hoped that his audience would see a richer picture of archaeology in Hong Kong beyond the Sung Wong Tai site, and have a better understanding of the 7,000-year history of Hong Kong culture. The discovery of relics along the Shatin to Central Link has aroused much attention and controversy in Hong Kong since 2014. Professor Tang identified two important people. The first was the 'mysterious figure' of Professor Liu Wensuo, leader of the archaeological team, who did not report any of his archaeological discoveries directly to the press during the controversy. The other was Mr. Lam Siu-lo, Chair of the Antiquities Advisory Board. In his Letters from Hong Kong, he wrote that 'Because of excavations and temporary constructions for preservation of important relics, the Shatin to Central Link project was delayed for more than 11 months and an extra cost of 3.1 billion was spent. Another 1 billion is still needed for preservation of seven relics in situ'. Professor Tang pointed out that people in Hong Kong were concerned about the detailed accounts for expenses of more than 4 billion. In addressing the issues of the expenses and special attention from different government departments, Professor Tang commented on the actual archaeological excavation of the Sung Wong Tai site from an academic perspective.
On 2 May 2014, Professor Tang inspected the Sung Wong Toi site with a research assistant from the Centre for Chinese Archaeology and Art and his graduate students from the Department of History. He identified several problems, some of which related to the large expenses. In his talk, he explained how, thanks to modern archaeological technology, archaeologists are able to carry out thorough investigations of the relics in an archaeological site and make appropriate excavation plans before digging. Archaeological remains of Song-Yuan dynasties along the Shatin to Central Link were discovered more than 10 years ago, but preparatory investigations before digging were delayed for a long time.
On the day of the inspection, Professor Tang discussed a well with members of the government archaeological team. The well was located above the subway station along the Shatin to Central Link. A few days later, the well was referred to as a mere 'pit' in the government's report, but this was not supported by further academic evidence.
The method of digging wells in the Sung Wong Toi site is worth further discussion. For archaeologists, a well is like a tunnel into the past, through which people's lives and the architectural technology of ancient times can be explored. Through excavation, archaeologists are able to study how wells were built, how they were used and how they were abandoned. Sometimes archaeologists are able to understand the changes in the environment in the past through the fillings of a well. Archaeological exploration of wells includes horizontal study of remains on the surface, and longitudinal study of remains inside and around. When inspecting the stone well T1 on the site, Professor Tang discovered that the fillings of the well had all been removed and the well dug out as an isolated object. Further questions about how the well was built and abandoned, and the structures around it were left for further studies.
Another well (no. 5) was preserved in situ. The remains of complex structures around it could be seen in photos and Professor Tang anticipated still more. However, only part of the well surface had been explored, while the original structures surrounding it were still undetermined. Professor Tang suggested exploring at least another 5-metre area around the well to investigate these structures.
On 19 May 2015, Professor Tang published an article, 'Opportunities and crises of archaeological excavation on the Shatin to Central Link', in Ming Pao, in which he wrote 'A key problem is that nowadays we do not know how to choose valuable sites for preservation, and what kinds of ancient culture are worth preserving in situ'. From the available archaeological reports of the Sung Wong Toi site so far, Professor Tang does not recommend its preservation in situ for several reasons. First, remnants, such as houses and wells, are scattered loosely on the site. It would be difficult to build an archaeological park to include all these remnants. Second, the artefacts are not intact and they only represent settlements that were common at the time. Finally, there are other archaeological sites dating back to the Song-Yuan era, such as in Yuen Long, and the relics there are in better condition.
Professor Tang gave some suggestions to the government on the development of archaeology in Hong Kong. First, the government should protect contracted archaeological professionals from interference by the consulting companies, and ensure that they can present and report their discoveries objectively. Second, archaeological professionals deserve more respect: excavation should be more open and reports of archaeological findings released to the public regularly. Third, the government needs to establish an objective assessment policy for archaeological projects. None of these are evident in the contractual archaeological projects in Hong Kong. As for archaeology at CUHK, Professor Tang emphasised that 'Professionals in archaeology are rare in Hong Kong. As university staff, we should stick hard to the academic mission of archaeology'.
Archaeological studies in Hong Kong first began in the 1920s when investigations were mainly undertaken by a small group of keen amateurs. In the 1970s, professors Cheng Te-kun and Lin Shou-chin joined CUHK and laid a solid foundation for the development of local archaeology as a professional discipline. More than 20 years later, in March, 2014, CUHK and the Chinese Academy of Social Sciences (CASS) jointly established the CASS-CUHK Chinese Archaeology Joint Research Base, which aimed to reconstruct the ancient history of Hong Kong from archaeological perspectives in China, East Asia and other parts of the world.
Professor Tang ended his talk by introducing several recent projects in the Centre for Chinese Archaeology and Art, which included rebuilding a 7,000-year history of ancient Hong Kong and Macau, the origins and spread of prehistoric jade cultures in East Asia, origins of Chinese civilisation and the birth of ancient civilisation in Hong Kong, exploration of the early birth of symbolism in East Asia and jade technology from the Palaeolithic period, and the origins and spread of barkcloth in Asia and the Pacific. Professor Tang also shared with us his expectations for Hong Kong archaeology. He said that, during the colonial era, there was essentially no professional archaeology in Hong Kong. In the post-colonial era, regulations and laws of relics in mainland China were not effective in Hong Kong because of the 'One country, two systems' policy. As a result, the only regulation of relics in Hong Kong today is still the Antiquities and Monuments Ordinance from the colonial era. Professor Tang hoped that people in Hong Kong would now pay more attention to protecting and supporting local culture. His best wish was to 'Let our history have a future and let us embrace the 7,000-year culture of Hong Kong'.