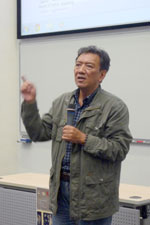 The USC co-organised the documentary screening series「回望—紀錄片觀摩系列」with the Research Centre for Contemporary Chinese Culture. The series, which began in January 2016, aims to promote documentaries on contemporary China with a focus on folk history and real personages. This is a year-round project running from September to May. A screening of Dances with the Paramount (Director: Wang Yun Long) was held on 15 April, followed by a screening of short films from the Family Album series produced by students from the Department of Media and Communication of the City University of Hong Kong (Instructor: Li Yu Hong; Directors: Yu Ting, Zeng Xin Zhu, Wang Yuan Yuan, Luo Li He, Zhou Hong Dou) on 5 May.
Dances with the Paramount records the tragic consequences of obedience and disobedience to the political requirement of the time to "dance with the senior officers" for actors in an art troupe in one of the military regions. The short films in the Family Album series demonstrate the essence of family relationships from different perspectives by tracing the interactions between family members – for instance, sister-sister and father-daughter.
The series has attracted around 400 audience members in total, including undergraduates, postgraduates, scholars, journalists, CU staff and the general public.