Distinguished Alumni-in-Residence Programme 2019 – Alumnus Norman Chan Tak Lam
Activities of Music Alumni Association
United College Feast for a Thousand for Alumni Graduated for 25 Years and 35 Years or above
Draft Minutes of the 2019 AGM Now Available Online - CUHK Convocation
Distinguished Alumni-in-Residence Programme 2019 – Alumnus Norman Chan Tak Lam
About the Programme
"Distinguished Alumni-in-Residence Programme 2019" will be held in October at CU campus. We are honored to have Alumnus Norman Chan Tak Lam, the Chief Executive of the Hong Kong Monetary Authority (1976/Chung Chi/Sociology) as the visiting distinguished alumnus of this session, after his retirement at the end of September. Norman will return to campus from October 3 to October 5 for a series of activities and interact with students, staff and alumni of the University.
Period
3 – 5 Oct (Thu - Sat)
Activities
- Opening Ceremony cum Keynote Speech - Crossroads in Life
- Night Talk @ Ming Hua Tang
- Master Class: FinTech - the Innovation and Challenges on the Financial Sector
- Basketball Friendly Match with Staff, Students and Alumni
- Business Lecture Series - "It Works for Me: Life Lessons from Norman Chan"
- Keynote Speech - "Hong Kong: International Financial Centre and Future Prospects" cum Closing Ceremony
Details and registration
Please click here
Enquiry

Email:alumni@cuhk.edu.hk
---
Activities of Music Alumni Association
Journey through Pop and Art Music:A public talk by Yin Ng and Chet Lam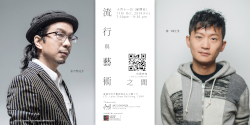 | | |
| --- | --- |
| Brief | Graduated in 1999, Alumnus Mr NG Cheuk-yin has composed numerous popular music and serious works. He also participated in many multi-arts performances. In this lecture talk, Ng will invite Mr Chet Lam, a Hong Kong famous singer-songwriter who has been working with traditional performing arts groups, to share his experience and views on his music journey through pop and art music compositions. Persons interested in music composition and multi-arts creation are welcome. |
| Eligibility | All |
| Date | 11 Oct (Fri) |
| Time | 7:30pm - 9:30pm |
| Venue | LT1 Lady Shaw Building, CUHK |
| Speaker | Yin Ng |
| Guest | Chet Lam |
| Fee | Free |
| Admissions | Please click here |
| Enquiry | Please visit aamuscuhk.org for details |
CUHK Tuba Quartet X A Guide to Lower Brass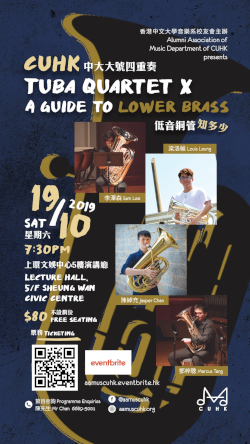 | | |
| --- | --- |
| Brief | <CUHK Tuba Quartet X A Guide to Lower Brass> Concert is open for sale from now! CUHK Tuba Quartet members consists students and alumni from CUHK music department. They will perform various classical, jazz and theme music, with brief introduction to each pieces and lower brass instruments. This concert welcome audiences at any ages. |
| Eligibility | All |
| Date | 19 Oct (Sat) |
| Time | Start at 7:30pm (The programme is 90 minuets in length with 15 minutes intermission) |
| Venue | Lecture Theatre, 5/f , Sheung Wan Civic Center |
| Performer | CUHK Tuba Quartet |
| Fee | $80 (Free Seating and no discount offer. Online sales system will charge less than $5 for administration fee) |
| Admissions | Please click here |
| Enquiry | Please visit aamuscuhk.org for details |
---
United College Feast for a Thousand for Alumni Graduated for 25 Years and 35 Years or above
Date / time
26 Oct (Sat)
Time
7:00pm – 9:00pm (Reception starts at 6:00pm / Group photo time at 6:30pm)
Venue
Thomas H C Cheung Gymnasium, First Floor,
Cheung Chuk Shan Amenities Building, United College
Details
Invitation cards have been sent to Class of 1994 and Classes of 1984 or above in late August. All alumni and their friends and relatives attending the dinner will be charged HK$250 per person at cost. Alumni register on or before 4 October can enjoy an early bird discount of 20%. Alumni can also form a table of 12 people to enjoy a discount of 20%.
Registration / enquiry

United College - Ms Amy Luk / Ms Maggie Yu
Tel: 3943 1948
Email: alumni-uc@cuhk.edu.hk
---
Draft Minutes of the 2019 AGM Now Available Online - CUHK Convocation
Draft of the minutes of the 2019 CUHK Convocation AGM (Chinese version only) is now available online.
Any views or comments on the draft by members of the CUHK Convocation should be submitted in writing and reached the Secretary of the CUHK Convocation (Email: convocation@cuhk.edu.hk ; Fax: 2603 6226; Address: c/o Alumni Affairs Office, Rm 301, John Fulton Centre, The Chinese University of Hong Kong, Shatin, N.T.) on or before 30 Sept 2019.
To learn more about the alumni activities around the globe, please visit "CU GALA" (CU Global Activity List for Alumni): http://www.alumni.cuhk.edu.hk/CUGALA/.