------------------------------------------
EVENTS
------------------------------------------
Faculty Exemplary Teaching Award cum Student Awards Presentation Ceremony
The Faculty Exemplary Teaching Award cum Student Awards Presentation Ceremony was successfully held on 26 January, 2019 at Yasumoto International Academic Park to recognise outstanding academic achievement of students, appreciate excellent teaching performance of staff, and congratulate those performed superbly in international competitions.

Faculty Retreat
The Faculty Retreat on Strategic Planning brought more than 25 faculties together on 25 April, 2019 to discuss and shape the direction of the strategic plan for future development. Professor Xie Zuowei kicked off the day by inviting Associate Deans and the management team to examine the key elements on Education, Student Affairs and Research. Associate Deans presented related reports and figures and led the team on the discussion of future opportunities and challenges of the Faculty. Participants shared collective insights into outreach and STEM education, internationalisation, student development, research initiatives, as well as the wealth of opportunities of the Greater Bay Area. Professor Xie concluded the event by drawing a clear path of priorities moving forward.

Science Career Fair 2019
More than 40 organisations joined the Science Career Fair 2019 to share career advice, talk about vacancies and showcase trainee programmes to CUHK students on 6 and 7 March, 2019 at the Science Centre Podium. Recruiters seeking science students for more than 100 jobs across a wide range of industries, ranging from Data Science, Risk Management, Banking, Lab Testing, R&D, Life Sciences to Teaching. The Fair served as a useful platform for students to learn about recruitment trends directly from employers and to build network with potential company representatives. Through the recruitment talks, company recruiters were able to explain the details of trainee programmes and the career paths of various positions to our students.

15th Lau Oi Wah Memorial Science Lecture Series
The Lau Oi Wah Memorial Science Lecture Series has entered its 15th year in continuing the promotion of science education. This year, Professor Lam Hon Ming from School of Life Sciences and Professor Yau Chun Yip from Department of Statistics were invited to share with audience their exciting research and applications on 12 April.

Hong Kong SciFest 2019
Faculty of Science is dedicated to nurturing young generation to become future scientists and innovators and promoting Science to the general public.

A group of our faculty members offered interesting and inspiring popular Science lectures in the Hong Kong SciFest 2019 held from 12 to 28 April, 2019 organised by the Hong Kong Science Museum.

The lectures were well-received by secondary school students, teacher and the public.

Meeting with Dean of College of Science of United Arab Emirates University
Professor Ahmed Murad, Dean of College of Science of United Arab Emirates (UAE) University visited CUHK Science Faculty and met with Professor Xie Zuowei and Professor Wong Hoi Ying on 16 April, 2019 to explore collaborative relationship between two faculties. Department of Chemistry, School of Life Sciences and Department of Physics also led tours to laboratories and shared latest development, structures and facilities with Professor Murad.

JUPAS Interviews for SCIENCE New Intake
With the support of academic units, the Faculty had completed the 2019 JUPAS Admission Interviews on 9 and 10 May, 2019 at the Esther Lee Building. The event went smoothly and over 870 secondary six students were interviewed by more than 60 teachers. After the interviews, potential students were given opportunities to talk to current science student ambassadors who shared their multifaceted experiences at CUHK, including their academic learning, college life, exchange and extracurricular activities that helped broaden and deepen students' horizon.

------------------------------------------
FACULTY ACHIEVEMENT
------------------------------------------
Discovering a Small Molecule to Restrain Neurodegeneration
Apart from studying polyglutamine (polyQ) diseases, which is a group of rare neurological disorders including spinocerebellar ataxias (SCAs), Professor Edwin Chan from School of Life Sciences and his research team have recently discovered a small molecule compound named Anti-polyQ Aggregation for Machado-Joseph-Associated Neurodegeneration (AQAMAN).

AoE Project to Study Fundamental Structure of Matter
A team of particle physics researchers, led by Professor Chu Ming Chung of Department of Physics, has been awarded HKD 78 million under the University Grants Committee's (UGC) eighth round Areas of Excellence (AoE) scheme. The project named "Probing the Fundamental Structure of Matter with High Energy Particle Collisions" will build on the strengths of existing involvement in the ATLAS experiment at the Large Hadron Collider (LHC) at The European Organisation for Nuclear Research (CERN), lead in some areas of Higgs particle properties measurement and contribute to the ATLAS detector upgrade.

Revealing the Secret Pattern of Cell Movement
Professor Wu Yilin of Department of Physics discovered that bacteria, which seem to randomly move, in fact go in a similar speed and oscillate in predictable elliptical spheres when individual movements of each cell are filtered out from the defocusing images. It is revealed by physical tracers and image-processing techniques that the weak individual interactions of bacteria will drive each other to form a similar group orbit, which lead to a loose pattern of collective oscillation.

Announcing The World's First Reference-Grade Wild Soybean Genome
Professor Lam Hon Ming from School of Life Sciences is dedicated to soybean research. His recent research has successfully completed the world's first reference-grade wild soybean genome. The genome is a useful reference when finding important genes and improving the varieties such as stress tolerance, seed protein, and secondary metabolite contents in cultivated soybean.

Unleashing the Potential of Mushrooms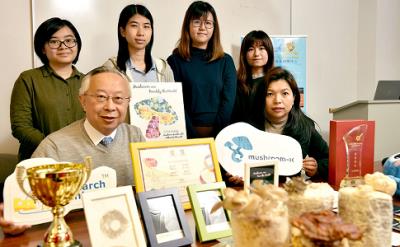 Having been devoted to the research of mushrooms for over four decades, Professor Kwan Hoi Shan from School of Life Sciences has never stopped in finding ways to unleash the potential of mushrooms with his teams of Mushroom-X, a social enterprise established in March 2018, and Food Research Centre.
Mushrooms not only serve as food, its vegetative part called mycelium can form biomaterials as well. Teams collect and upcycle food and wood wastes such as coffee grounds, bean dregs, and wood chips by mixing them with cultivated mycelium. The mixture will then grow into mouldable, flexible, and 100% biodegradable biomaterials, which are ideal alternatives to plastic and bricks for product packaging and thermal insulation of buildings.
The potential of mushrooms has not reached the end yet. The Food Research Centre has achieved a breakthrough in developing new technology of which a provisional US patent has been obtained, to suppress fungal bricks from further growing without killing the mycelium. The biomaterials can even self-repair if there are brick cracks.

2019 Class of Society of Industrial and Applied Mathematics Fellow
Professor Zou Jun, Chairman of Department of Mathematics, has been honoured by the Society of Industrial and Applied Mathematics (SIAM) in the United States as a Fellow of the 2019 Class in recognition of his contributions to numerical methods and analyses of direct and inverse problems of partial differential equations.

The 47th International Exhibition of Inventions of Geneva
Professor Wang Jianfang and Dr. Yip Hang Kuen from Department of Physics were awarded the Bronze Medal in the 47th International Exhibition of Inventions held in Geneva, one of the biggest worldwide events in inventions. Their invention of noble metal nanoparticle-based platform makes use of the low-cost, precise, and efficient nano chip in a general laboratory setting instead of a clean room environment for Raman spectroscopy; it also enables a more effective and accruable detection of harmful substances.

Collaboration between Plant Hormone and Vesicular Transport Regulatory Protein for Crop Tolerance Improvement
Plants are able to suppress their growth when they are in unfavourable conditions to increase survival chances. A team of researchers from CUHK, including Professor Jiang Liwen from School of Life Sciences, and South China Normal University discovered that the plant vesicular transport regulatory protein FREE1's participation in plant hormones ABA signalling not only takes place in the cytoplasm, but also in the nucleus to directly regulate it at the transcriptional level. The clues found in both gene expression and protein transport levels contribute to the theoretical basis for improving crop tolerance to environmental stresses through genetic engineering.

Verifying the Existence of Ultralight Bosons with a Single Gravitational-wave Measurement
Professor Tjonnie Li and his PhD student Otto Hannuksela from Department of Physics discovered a new possible method to verify the existence of ultralight bosons, the suggested extremely light theoretical particles, by using single gravitational wave measurement through model selection.

Adopting Intercropping as a Sustainable Farming Alternative
Professor Amos Tai from Earth System Science Programme worked with Professor Lam Hon Ming from School of Life Sciences to investigate whether intercropping could totally replace monoculture as a way to alleviate the worsening of food crisis and air pollution.

University's 2018 Long Service Awards
Over 20 teachers and staff from the Faculty were awarded the University's 2018 Long Service Awards and received congratulations and thanks from the Vice-Chancellor, Professor Rocky Tuan, in April 2019, for their efforts and dedication to their services at CUHK.
Professor Henry Wong was one of the recipients of the 35-Year Long Service Award. Ten years after graduation from his bachelor's degree, he returned to CUHK to teach in Department of Chemistry in 1983. Since then, his contribution to the University and the Faculty has never stopped. He took up different teaching and administrative positions such as Professor of Chemistry, Dean of Science, and Pro-Vice-Chancellor. And he is now Head of New Asia College, Emeritus Professor of Chemistry, and Research Professor of the Faculty.

------------------------------------------
STUDENT ACHIEVEMENT
------------------------------------------
International Mathematics Competition
More than 20 students from the Faculty joined the Simon Marais Mathematics Competition (SMMC), an international mathematics competition which aims at promoting creative mathematical problem-solving among undergraduate students. The joint efforts have led CUHK to be the first place winner among more than 40 universities.
Kwok Man Yi, Mandy and Lee Shun Ming, Samuel, both from Department of Mathematics, solved most of the problems set in the two 3-hour tests and are awarded the first place in Pairs prize. Another pair, Tung Kam Chuen and Wong Chun Shing, won the third place in Pairs prize; and Shen Jianhao won the second place in the Individual prize.

Innovation and Technology Scholarship Award Scheme 2019
Yeung Chun Yat, a year-2 student from Department of Physics (Enrichment Stream in Theoretical Physics; Science, Technology and Research Stream), has been awarded the Innovation and Technology Scholarship 2019. He will receive up to HKD 150,000 to support his participation in a range of attachment, mentorship, internship, and service project programmes both locally and overseas to widen international exposure, gain industry experience, and nurture passion and commitment towards the field.

International Collegiate Programming Contest
The programming team from CUHK, including Mathematics student Ho Ngan Hang, won a Bronze medal at the International Collegiate Programming Contest (ICPC) held in Porto, Portugal. The ICPC is the largest and oldest algorithmic programming contest which aims at promoting contestants' collaboration, creativity, innovation, and the ability to perform under pressure through training and competition.

------------------------------------------
UPCOMING EVENTS
------------------------------------------

Science Faculty Research Day 2019
Date: 29 May, 2019 (Wednesday)
Time: 9:10 am
Venue: MMW LT1
Faculty Distinguished Lecture Series 2018-19
Change-Point Detection: Past and Present
Speaker: Professor David Siegmund
John D. and Sigrid Banks Professor of Statistics, Stanford University
Date: 28 May, 2019 (Tuesday)
Time: 2:30 pm
Venue: LSB LT6


------------------------------------------
CALL FOR APPLICATION
------------------------------------------

The BBVA Foundation Frontiers of Knowledge Awards (12th Edition)
The awards consist of EUR 400,000 and are undertaken in collaboration with the Spanish National Research Council (CSIC).
Deadline: 30 June, 2019 (Saturday) 23:00 GMT
Details/ Website: www.frontiersofknowledgeawards-fbbva.es

European Union (EU) – Hong Kong Research and Innovation Cooperation Co-funding Mechanism by the RGC 2019/20
ORKTS Internal Deadline: 12 June, 2019 (Wednesday)

RGC Germany/ Hong Kong Joint Research Scheme 2019/20
ORKTS Internal Deadline: 12 June, 2019 (Wednesday)

RGC PROCORE-France/ Hong Kong Joint Research Scheme 2019/20
ORKTS Internal Deadline: 19 June, 2019 (Wednesday)