------------------------------------------
OUR EMINENT SCIENTISTS @ CUHK
------------------------------------------
Professor CHOW Hei Man Kim – Big Data X Traditional Molecular Biology: Decoding Biological Signalling Network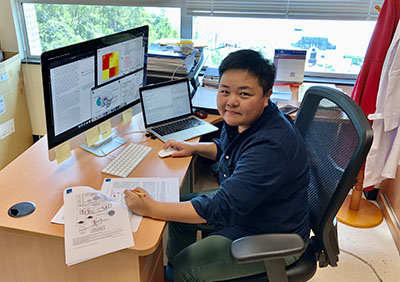 Human are complex organisms that made up of million individual systems. Professor Kim Chow of School of Life Sciences is one of the dedicating scientists working on dissecting the mechanisms regulating human physiology. Instead of following conventional approaches, she decodes the signalling pathways in neurodegenerative diseases by combining big data analysis to small things like molecular biology.
With the interdisciplinary approach, she is able to analyse massive amount of molecular data within a short period of time, and the efficient research method and data-driven results facilitate her to determine the most feasible regulatory mechanism. Her endeavours and perseverance are not wasted; recently, she has been awarded the Excellent Young Scientists Fund 2020 from the National Natural Science Foundation of China. In the brand-new interview series "Our Eminent Scientists @ CUHK", she will share with us how she paved the way for neuroscience research.
Full articles in Chinese and English available on Faculty Website.

Interview Video on YouTube

------------------------------------------
EVENTS
------------------------------------------
Welcoming New Students
New term begins! Despite the challenges we all faced in this special year, we have overcome them and got to this special start of the Fall 2020 semester.
We are delighted to welcome over 600 new students this year to the academic family of the Science Faculty. The Faculty offers various programmes and activities to nurture your interests and to help your intellectual potential. Professor Song Chunshan, Dean of Science, wishes our freshmen a fulfilling university life ahead with learning, thinking, and discovery in science at CUHK.

ZOOM Consultation by Science Student Academic Advisors
While students were planning for the new semesters this summer, the Faculty also organised consultation sessions to help students in making informed choices. The consultation was hosted by Science Student Academic Advisors (SSAAs), a group of science students who are determined to help their peers to reach their academic goals and enrich their learning experience.

Mini Impact Symposium – From Research to Entrepreneurship
Creating societal and economic impact from research beyond academia has become more valued in recent years. The Faculty was glad to present its first Mini Impact Symposium with the theme of "From Research to Entrepreneurship" via ZOOM on 18 September, 2020.

Virtual Information Day for Undergraduate Admissions 2020
This year, the Information Day has employed a digital alternative. The Faculty and programmes had also turned their booths into virtual ones with a wide array of live admission talks and chat sessions staged online.

------------------------------------------
FACULTY ACHIEVEMENTS
------------------------------------------
Revealing Gravitational-Wave Signature of a First-Order Quantum Chromodynamics Phase
The observation and record of supernova events had long been carried out centuries ago, though it was later revealed that supernovae are in fact the violent explosions of massive stars, the reason why they explode and what powers such explosions have remained a puzzle to astrophysicists after several decades of intensive study.

Finding Slow Earthquakes Behave Similarly to Regular Earthquakes
The largest earthquake ever recorded lasted for only about ten minutes. But two decades ago, scientists discovered that faults, the surfaces where earthquakes occur, can slide past each other very slowly sometimes. The slow earthquake, occurs deep in the earth and releases energy at slow pace, can last for weeks or longer. Professor Tan Yen Joe of Earth System Science Programme recently analysed hundreds of thousands of weak tremors emanating from the San Andreas Fault in California and found that slow earthquakes behave similarly to regular earthquakes.

Discovering the Biggest Gravitational Wave Source So Far
Recently, the Laser Interferometer Gravitational-wave Observatory (LIGO) Scientific Collaboration and the Virgo Collaboration (Virgo) reported the discovery of GW190521, the first ever detected intermediate-mass black hole which reaches a mass larger than was thought possible. Professor Tjonnie Li and Professor Juan Calderon Bustillo of Department of Physics lead the only group in Hong Kong involved with the work of LIGO, and have been deeply involved in the analysis of the signal.

Striving to Find Interdisciplinary Answers to Environmental Problems
Professor Amos Tai of Earth System Science Programme has a broad research interest in atmospheric chemistry and physics, air pollution, ecosystem services and food security under climate change. To solve the complex problems in environment, he makes use of high-performance computing and bridges physical sciences with life sciences from an earth system perspective.

Young Scientists Receiving Excellent Young Science Fund 2020
Professor Martin Li of Department of Mathematics and Professor Kim Chow of School of Life Sciences have recently been awarded Excellent Young Science Fund 2020 by the National Natural Science Foundation of China (NSFC), an organisation managed by the Ministry of Science and Technology (MOST).

The XPLORER PRIZE (Mathematics and Physics)
Professor He Xuhua of Department of Mathematics has just received the XPLORER PRIZE (Mathematics and Physics) in recognition of his spirit of scientific exploration and potential for innovation.

Probing Deep into Shallow Earthquakes Induced by Shale Gas Production in Sichuan
Professor Yang Hong Feng of Earth System Science Programme conducted a comprehensive study of the 2019 Weiyuan Earthquake Sequences in Sichuan, China and revealed that the extremely shallow earthquake occurred in February of the same year is related to the shale gas production nearby.

Breaking the Wall of Cryosphere Monitoring
Professor Liu Lin of Earth System Science Programme is one of the finalists in the Falling Walls Science Breakthroughs of the Year. He uses artificial intelligence to monitor drastic changes in Earth's polar regions. With the help of AI-based methods, researchers no longer have to manually check every single glacier image because satellite observation will provide pivotal measurements of the rapid changes in vast remote and cold regions.

MoE Higher Education Outstanding Scientific Research Output Award
Professor Xie Zuowei of Department of Chemistry has been awarded the Higher Education Outstanding Scientific Research Output Awards (Second-Class Award in Natural Science) 2019 from the Ministry of Education (MoE).

Trials and Triumphs with Biochemical Research
"In the US, people don't leave the country. They may leave the state, but they never have the sense of what it's like in another place," said Brad Heater, the American who chose to study his doctorate degree in Hong Kong seven years ago.

------------------------------------------
UPCOMING EVENTS
------------------------------------------

88th Congregation for the Conferment of Master's Degrees
Date: 20 November, 2020 (Friday)
Time: 2:30 p.m. – 3:30 p.m.

------------------------------------------
CALL FOR APPLICATION
------------------------------------------