Hong Kong has been coined as a "concrete jungle", being famed for its densely populated high-rise buildings to meet the economic and housing demands. As such, the increase in building efficiency, greater affordability, sustainable low-carbon construction methods, and higher building quality are all significant to the society and population of the city. However, in recent years, the building development and construction industry are facing significant challenges due to the shortage of labourers and an ageing workforce. According to a survey conducted by the Hong Kong Construction Association on the 15th of January 2020, a shortage of 7,408 workers (approximately 7.3% of workers) out of a required 101,186 workers was predicted. Furthermore, the ageing of the workforce is also a significant problem. The percentage of workers who are above 50 in age is over 43% (approximately 200,000) and there are only approximately 70,000 (14%) workers that are under the age of 30.

To combat such challenges, the Hong Kong construction industry has been investing great efforts in the development of automated robotic systems to assist in the construction process. The introduction of robots aims to bring a range of benefits to the industry, including increased worker safety, construction quality, on-site efficiency and a reduction in operational costs. Despite such advantages, construction automation development in Hong Kong is still in its infancy due to many reasons. First, construction robots require a high level of programmed intelligence and adaptability given the complex environments that they must operate in and the vast range of tasks it needs to perform. Second, robots are required to perform superior strength and loading tasks while maintaining high levels of precision. Third, systems should be stable and safe to work at on an active construction site with many human workers. Fourth, robots need to be highly robust and rugged to work in harsh construction environments, such as rain, heat and dust. Furthermore, the integration of new autonomous systems within existing complex building construction workflows, including the Building Information Model and site logistics, is challenging. Finally, the aforementioned demanding requirements result in substantial research development costs and high robot costs in deployment.

Current developments in construction robotics focus on two primary directions: 1) robots to perform specific construction tasks in a human-like manner within the existing workflow, such as painting, drilling, and inspecting; and 2) robots that operate within new construction processes that aim to revolutionise the industry, such as prefabrication and Modular Integrated Construction. The former requires greater capabilities to operate within the tight working environments in Hong Kong, and the latter may take a longer period of time for building contractors and developers to adopt.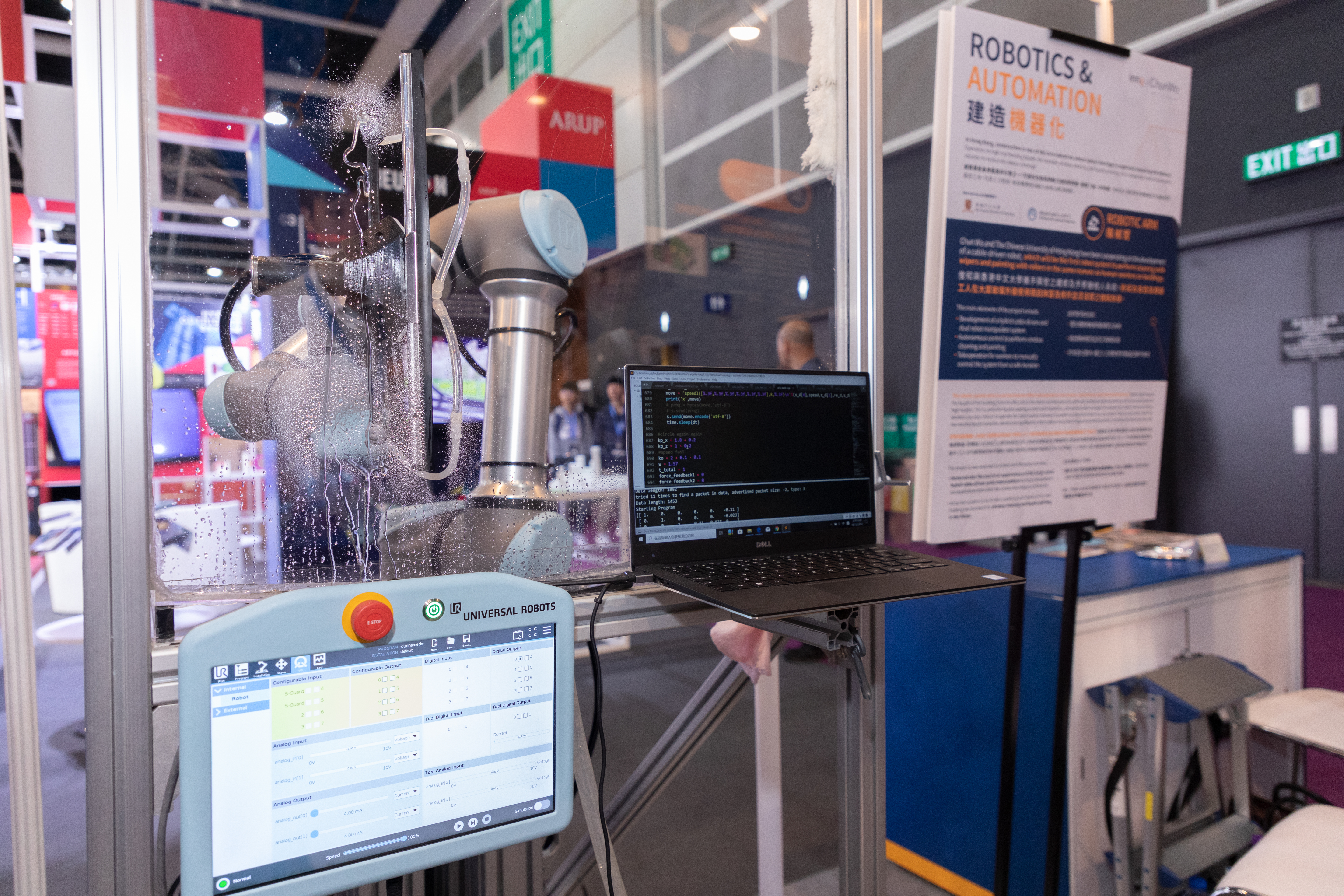 To address the needs and challenges of the building industry, significant developments and projects in construction robots have been conducted at the the CUHK Faculty of Engineering and the Centre of Robotic Construction and Architecture (CRCA) of the T-Stone Robotics Institute. CRCA's mission is to develop a next generation of safe, sustainable, and efficient robots for the Hong Kong construction industry, environment and community. Some recent projects include:


CU-Brick (led by Prof. Darwin Lau and Prof. Yam Yeung from the Department of Mechanical and Automation Engineering, and Prof. Adam Fingrut from the School of Architecture) is a cable-driven robot for automated brick-laying. Currently, a prototype version of the robot is displayed at the Hong Kong Science Museum as part of the "RoboHelpers" exhibit. Moreover, the further development of the robot system to construct a real permanent brick structure at the CUHK Yard for Environmental Sustainability is under-going.
A façade cleaning and painting robot (led by Prof. Darwin Lau in collaboration with Chun Wo Development Holdings Limited and funded by the ITF) is being developed to replace human workers in performing such dangerous high-rise operations. The robot is of a hybrid type consisting of a robot arm on top of a cable-driven platform.
Specialised autonomous vehicles (led by Prof. Yunhui Liu from the Department of Mechanical and Automation Engineering and Hong Kong Centre on Logistics Robot) are developed to transport heavy loads in complex environments, such as warehouses and construction sites.
The BORED project (led by Prof. Darwin Lau in collaboration with Vibro H.K. Limited, Hip Hing Engineering Company Limited and funded by the ITF) aims to develop a lightweight cable-driven robot that can operate within building bored piles to perform tasks such as cleaning of the founding level.
Interior painting robots (led by Prof. Yunhui Liu from the Department of Mechanical and Automation Engineering and Hong Kong Centre on Logistics Robot) have been developed to autonomously localise, navigate and perform painting on walls and ceilings within the indoor building works.
An interior works and inspection robot platform (led by Prof. Jimmy Lee from the Department of Computer Science and Engineering and Prof. Darwin Lau from the Department of Mechanical and Automation Engineering) is being developed to act as a foreman and inspector at indoor construction sites, to monitor the work progress and inspect the resulting construction quality.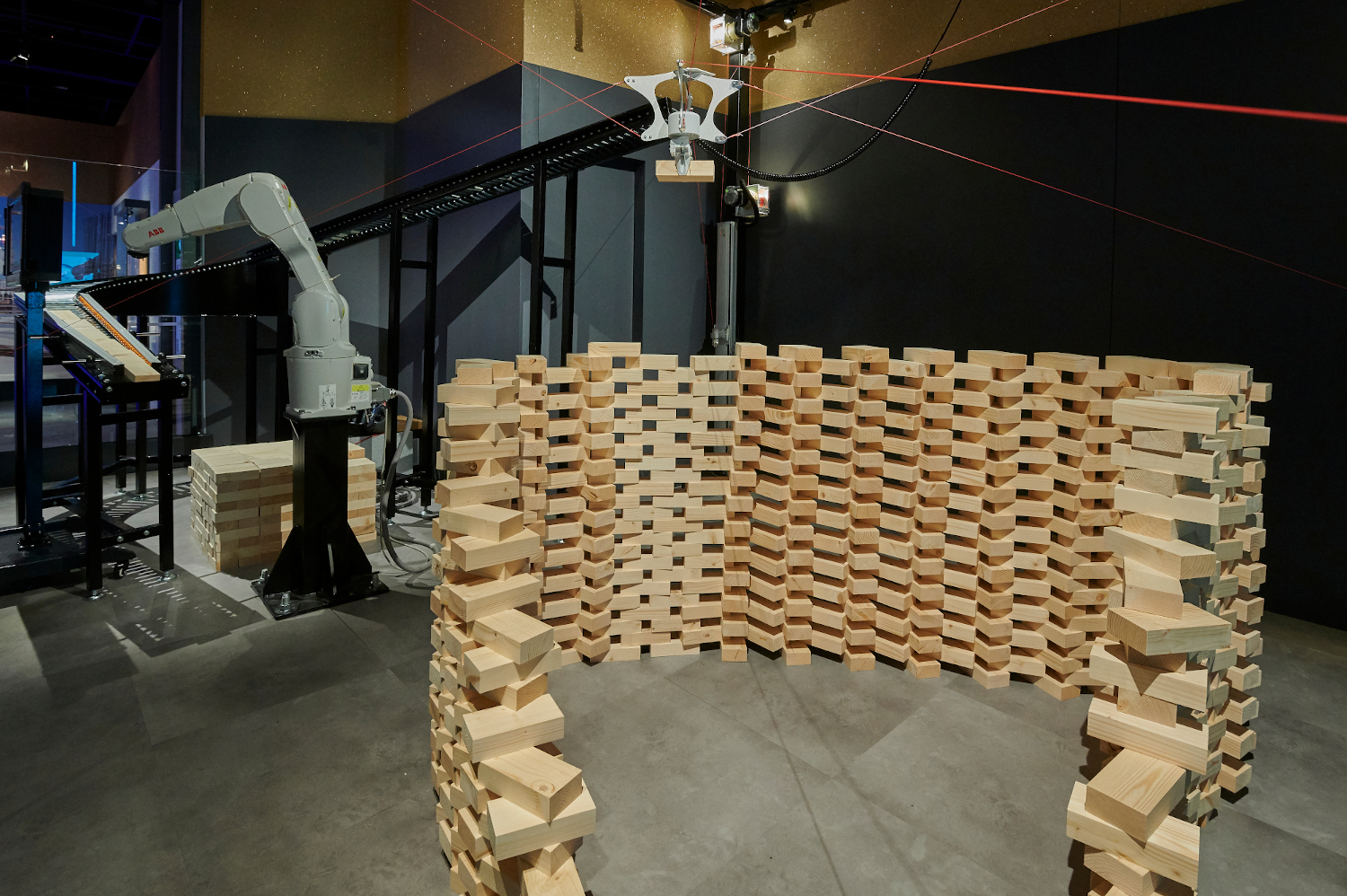 With the support of the Hong Kong Government and strong collaborations with local developers and contractors, it is anticipated that the developments of construction robots will continue to thrive and will see their way into local building projects. The interdisciplinary nature of building construction works and maintenance will bring together robotics research, computer vision, artificial intelligence, architectural design, structural engineering and operations processes in order to achieve the goal of fully automating building construction.

Prof. Darwin Lau
Associate Director
Centre for Innovation and Technology
Faculty of Engineering
The Chinese University of Hong Kong