A Glance@Upgraded CUSIS Ready on 11 Mar 2020**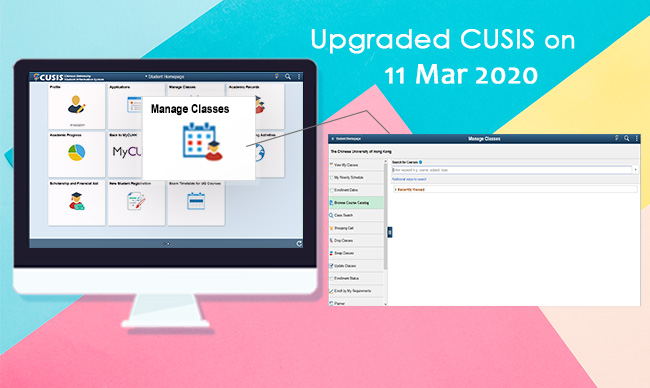 ** Note: Due to novel coronavirus, the University has announced a new class and work arrangement. The go live date of MyCUHK and CUSIS was previously 26 Feb (Wed) and is now postponed as below:
Blackout Period + System Checking: 28 Feb 2020 (Fri) 6PM - 11 Mar 2020 (Wed) 8:45AM
Go Live Date: 11 Mar 2020 (Wed) 8:45AM**
An upgraded CUSIS will be available on 11 Mar 2020 (Wed)*.
We would like you to have a glance at the upgraded version:
New Login Page
You will no longer see the MyCUHK login page after the launch. When one goes to MyCUHK, you will be directed to our CUHK Login Page to log in with your email address plus OnePass password. You can also enjoy the single sign-on features across Office 365, MyCUHK, CUSIS and Library Services.



Precise Tiles & Elastic Search Function
Menu items are presented as tiles with precise layout. You can choose to search the function via the new search function.



Mobile Responsive
MyCUHK and CUSIS will be mobile responsive, which can adapt to your screen size to display.



Easy Course Searching
One can search a course from a keyword.




Enhanced Security on Personal Data
Two-factor authentication (2FA) will be introduced in CUSIS to protect privacy as a start point. Administrative staff who handle personal data in CUSIS will need to use 2FA before accessing the data while students need to use 2FA to update their personal address in CUSIS.

We will further update you via mass mails soon. Stay tuned!
Details:
back to issue