Highlight: University IS Policy – 2-factor Authentication and Annual Password Expiry for All University Accounts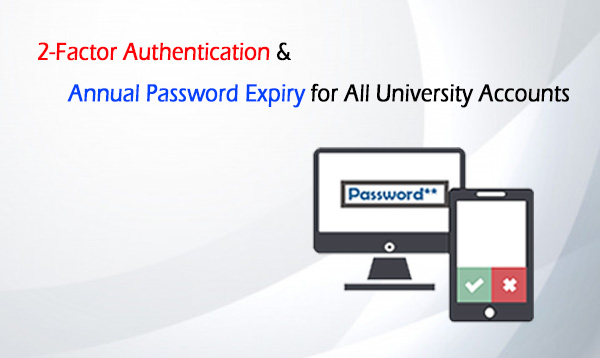 The University's Information Technology (IT) and Information Security (IS) policies provide a security framework to protect our data and information from unauthorized access. There are 2 exercise coming up, in which your action is needed.
2-factor Authentication
The IT Governance Committee has endorsed to enforce Two Factor Authentication (2FA) protection for all University accounts including all staff, student and project accounts (aka @cuhk.edu.hk and @link.cuhk.edu.hk). The enforcement will be
Students: 3 Nov 2020
Staff & Project Accounts: 2 Feb 2021
Start using it now to protect your account!

Details: https://www.itsc.cuhk.edu.hk/all-it/information-security/two-factor-authentication-2fa/
Annual Password Expiry
With the Annual Password Expiry Policy, the expiry date of every staff, student, department, project, student organization and external user account, has been aligned with a specific date.
The expiry date has been announced through mass mails. There won't be any clickable link or attachment in this reminder email. We will only remind you to change your OnePass password through MyCUHK / CUHK login page in which you frequently visit.
back to issue