Chiang, L. H. N. (2018). The cultural adaptation of early Hong Kong immigrants in Taiwan. Hong Kong: Occasional Paper No. 239, HKIAPS.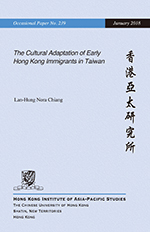 ---
Center for Housing Innovations
Tsou, J. Y., Li, X., Tsou, K., & He, J. H. (2018, June). Mechanism of housing-related urban heat island formation and dynamic in high-density urban context: A study of Hong Kong. Paper submitted to the 17th International Conference on Computing in Civil and Building Engineering, Tampere, Finland.
Tsou, J. Y., Li, X., Tsou, K., He, J. H., & Pan, D. X. (2018, June). Detect relationship between urban housing development and urban heat island dynamic in hyper-density Hong Kong by integrating GIS and RS techniques. Paper submitted to the 25th International Workshop on Intelligent Computing in Engineering, Lausanne, Switzerland.
---
Centre for Social and Political Development Studies
鄭宏泰、周文港(編)。2017。《大浪淘沙︰家族企業的優勝劣敗》。香港:中華書局(香港)有限公司。


---
鄭宏泰、高皓。2017。《可繼之道︰華人家族企業發展挑戰與出路》。香港:中華書局(香港)有限公司。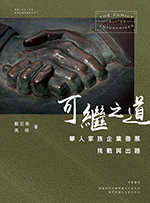 ---
黃子為、鄭宏泰、尹寶珊。2018。「香港『八十後』和『九十後』的政治信任:年齡與世代的影響」,《當代中國研究》,第25卷,第1期,頁1–24。
---
Centre for Youth Studies
鄧鍵一。2018。「誰動員群眾?電視機與新媒體」,載鄭煒、袁瑋熙(編)《社運年代:香港政治抗爭的軌跡》。香港:香港中文大學出版社–頁177-188。
---