News
CUHK Engineering team won champion in Robocon 2016 Hong Kong Contest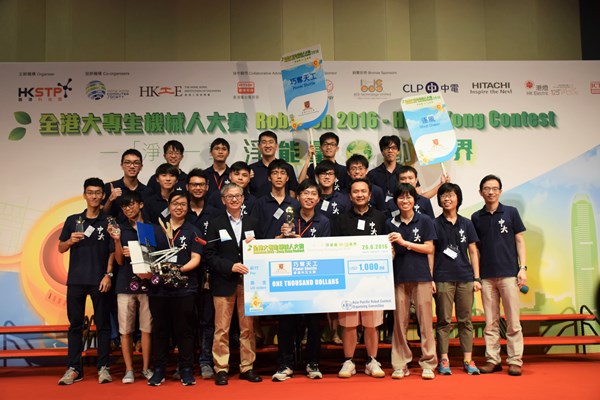 The CUHK Engineering team "Power Shuttle" won the championship, the Best Team Spirit Award, and the Best Engineering Award at the Robocon 2016 Hong Kong Contest conducted by the Hong Kong Science and Technology Park, Hong Kong Computer Society and the Hong Kong Institute of Engineers at Hong Kong Science Park on 26 June 2016. "There are 2 Engineering teams from CUHK this year. The perseverance and hard work on their part resulted in a consistent and solid performance leading them to victory amongst a field of 11 teams from 6 tertiary institutions in Hong Kong," said Prof. LAU Tat Ming Darwin, one of the team supervisors from the Department of Mechanical and Automation Engineering.

The winning team, consisting of 13 Faculty of Engineering students (four freshmen, eight MAE students and one CSE student), designed and built two robots to collaboratively complete the task of transporting a propeller for mounting on a wind turbine. They represented Hong Kong at the ABU Asia-Pacific Robot Contest 2016 in Bangkok in August.

The "Power Shuttle" team is supervised by Prof. LIU Yun Hui, Prof. LAU Tat Ming Darwin, Prof. LIAO Wei Hsin, Prof. CHEN Shih Chi, Mr. YIP Chun Wa, Mr. CHEUK Chi Ming, and Mr. LEUNG Yuk Yee Martin.