Highlight for Staff: Revised Login Method for CUPIS, IOPAS, Taleo and Scheme (1995) Enquiry System in Mar 2020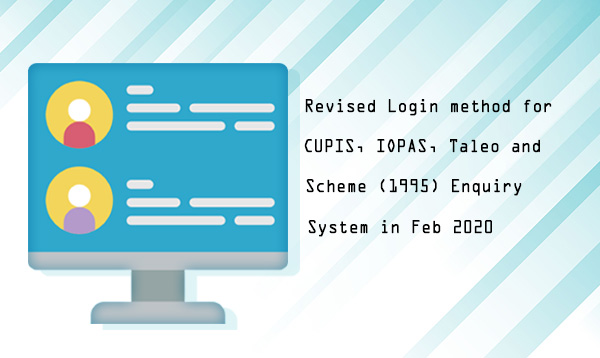 * Note: Due to novel coronavirus, the University has announced a new class and work arrangement. The go live date of MyCUHK has been postponed to 11 Mar 2020 (Wed)
The login of MyCUHK for staff members will soon be revised from "Login by staff ID number" to "Login by email address (i.e. alias@cuhk.edu.hk)".
To provide you with the convenience of single sign-on across the upgraded MyCUHK and other centralized IT systems, the login of the HR related functions available on MyCUHK i.e.
CUPIS,
IOPAS,
e-Recruitment (Taleo) and
Scheme (1995) Enquiry System
will adopt CUHK Login, which is "Login by email address". The new login method for these 4 system applications is tentatively scheduled to start on 11 Mar 2020 (Wed)*, when the upgraded MyCUHK is launched with the new login method.
If you are getting direct access to these system applications without routing through MyCUHK, please also be reminded to use your CUHK email address to log in starting from 11 Mar 2020 (Wed).
For enquiry, please write to ITSC Service Desk (https://servicedesk.itsc.cuhk.edu.hk).
back to issue