Central Data Centres Certified with International Information Security Management Standard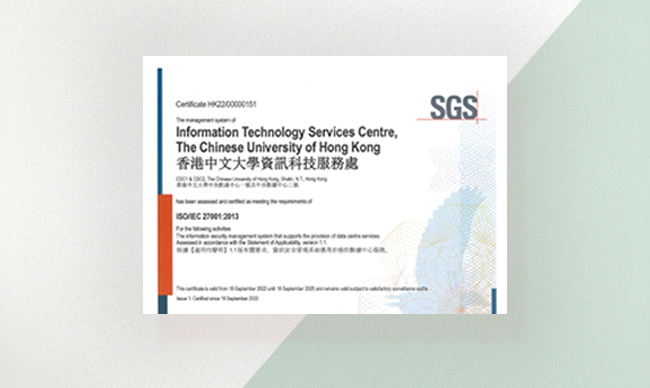 The Central Data Centres of the University are successfully certified for ISO 27001, an internationally recognized standard for information Security Management System (ISMS).
To get certified, our Data Centres went through an audit process by the authorized certification body, including documentation review, gap assessment, controls implementation, training, and certification audit. It assures our compliance of the 14 domains of ISO 27001: security policies, asset management, access control, physical security, operation security, incident management etc. The assurance gives benefits that:
It provides a reliable, well managed Data Centres and operation service to the University community.
It ensures that the policies, procedures and controls of our Data Centres are in good place to manage information security risks.
It gives confidence to our stakeholders that the data stored in the Data Centres are safely guarded according to the strict internationally recognized framework
The certification is subject to annual audit to ensure that our practices and procedures are maintained to the standard continuously.
back to issue